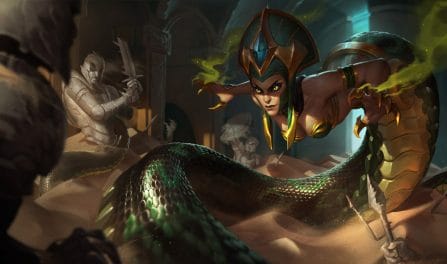 Статистика и рейтинг чемпионов в LoL
Кол-во обработанных матчей (Кассиопея): 53,180
To prepare these Cassiopeia statistics, we reviewed 53,180 recent ranked League games with her chosen. MOBA Champion downloads ranked game summaries directly from Riot's servers. This allows us to be very confident in our Cassiopeia stats. She didn't do a good job in recent games. She racked up an average win rate of 49.6%.
Cassiopeia has been used very little in recent ranked LoL games. In the current meta, her popularity is 1.8%. Hardly anyone sees her as a danger. She has only been banned in roughly 0.8% of League of Legends matches.
If you are looking for a dominating damage dealer, then you should definitely consider this champion. She has the 14th highest kill count in League amongst all mids. (34 total champions are usually picked for the mid position.) Furthermore, she has a relatively high average death rate (6 deaths; 12th out of all mids). Additionally, Cassiopeia's KDA is typically low with an average KDA ratio of 2.1 as well as 6 assists per match. This is the 23rd top assist count among mid champions.
Процент побед на разных этапах игры
As a result of Cassiopeia's K/D/A and utility, she has a fairly average overall win rate. She does best in the late game, with a winrate of 50.9% in that phase. Unfortunately, she does worst in the early game, where Cassiopeia's win rate is 49.2%. The difference between her best and worst game phases is only 1.7%. This negligible difference makes it clear that her relative power is flat throughout the entire game.
Кассиопея:

статистика и мета
You can see her typically played in the mid position. However, that is not the best position for her. The best win rate position for Cassiopeia is bottom (50.2%). At this time, Cassiopeia's meta game is centered around dealing damage. Specifically, her build should primarily be centered around magical damage. Additionally, she is an ok support champion. Dealing physical damage is the least important part of Cassiopeia's gameplay.
If you are not used to Cassiopeia's abilities and tactics, you probably will find it difficult picking her up for the first time. Many competitors consider her to be a difficult champ to get good at. Cassiopeia mostly causes magical damage (95% of her total damage). She doesn't deal a large amount of physical damage and shouldn't be played as a hybrid damage dealer.
Cassiopeia deals a great deal of damage over the course of a normal match (20,514 damage). You should focus on developing her as a damage dealing champ to smash your foes.
Кассиопея:

базовые характеристики
Сопротивление магии
32 - 40.5
Скорость передвижения
328
Cassiopeia is a deadly creature bent on manipulating others to her sinister will. Youngest and most beautiful daughter of the noble Du Couteau family of Noxus, she ventured deep into the crypts beneath Shurima in search of ancient power. There, she was...
Каждую неделю мы тщательно анализируем миллионы матчей League of Legends, которые получаем напрямую с серверов Riot. Мы используем продвинутые алгоритмы, чтобы предоставлять наиболее точную статистику чемпиона Кассиопея онлайн. Данные можно отсортировать по рангу, поэтому процент побед и другая статистика чемпиона Кассиопея будут максимально актуальными.