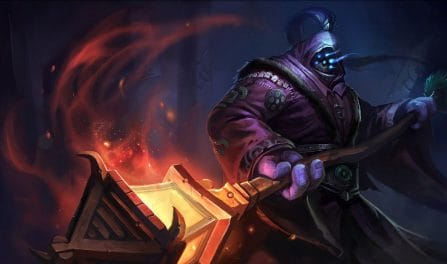 Статистика и рейтинг чемпионов в LoL
Кол-во обработанных матчей (Джакс): 116,406
To generate these Jax statistics, we reviewed 116,406 recent ranked LoL matches with him chosen. We pull competitive match results directly from Riot's servers. This allows us to be very confident in our Jax statistics. Across all games, Jax did do very well, with an average win rate of 50.8%.
Jax has been used only occasionally in the latest ranked League games. In the current meta, his popularity is 3.9%. Hardly anyone sees him as a threat. He has only been banned in about 2.2% of LoL matches.
If you are looking for a dominating damage dealer, then you should definitely consider this champ. He has the 3rd highest kill rate on the Rift amongst all tops. (34 champions in total are most commonly chosen for the top position.) Moreover, he has a fairly above average death total with an average of 6 deaths per LoL match (11th out of all tops). Moreover, Jax's KDA is usually low with an average KDA ratio of 1.8 as well as 5 assists per round. This is the 27th best assist count among top champions.
Процент побед на разных этапах игры
Because of Jax's K/D/A and utility, he has a fairly average overall win rate. He does very well in the late game, with a winrate of 52.7% in that phase. Unfortunately, he does very poorly in the early game, where Jax's win rate is 50.1%. The difference between his best and worst game phases is only 2.6%. This sizeable difference shows us that his power spikes and wanes in different phases of the round. Prepare accordingly.
Jax is played mostly in the top position. This occurs in 64% of his matches. Yet, jungle Jax has the highest win rate (51.7%) of all positions but is less popular of a position (played 29% of the time). Currently, Jax's meta game is focused on dealing damage. Specifically, his kit should mainly be centered around physical damage. Moreover, he is an ok damage dealer champion. Tanking is the least critical part of Jax's gameplay.
If you are not familiar with Jax's abilities and gameplay, you may find it difficult picking him up for the first time. Most competitors believe him to not be a difficult champ to master. Jax primarily causes physical damage (73% of his total damage). He also deals a large amount of magical damage and should be considered a hybrid damage dealer.
Jax deals a good amount of damage over the course of a regular ranked game (17,517 damage). You may want to focus on developing him as a powerful champion to crush your enemies.
Джакс:

базовые характеристики
Сопротивление магии
32 - 53.25
Скорость передвижения
350
Unmatched in both his skill with unique armaments and his biting sarcasm, Jax is the last known weapons master of Icathia. After his homeland was laid low by its own hubris in unleashing the Void, Jax and his kind vowed to protect what little remained...
Каждую неделю мы тщательно анализируем миллионы матчей League of Legends, которые получаем напрямую с серверов Riot. Мы используем продвинутые алгоритмы, чтобы предоставлять наиболее точную статистику чемпиона Джакс онлайн. Данные можно отсортировать по рангу, поэтому процент побед и другая статистика чемпиона Джакс будут максимально актуальными.