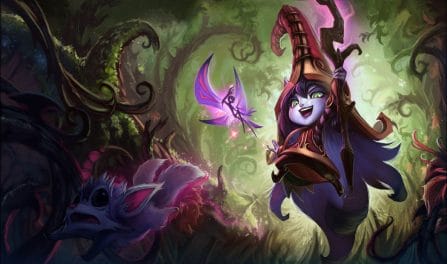 Статистика и рейтинг чемпионов в LoL
Кол-во обработанных матчей (Лулу): 126,754
These champ statistics were determined using 126,754 recently played, ranked Lulu matches. MOBA Champion downloads competitive game results directly from Riot's servers. Having a large number of LoL games to evaluate gives us a lot of confidence in our ability to provide accurate Lulu statistics. She didn't do a great job in recent rounds. She has an average win rate of 49.7%.
Lulu has been picked somewhat often in recent ranked League matches. In the current meta, her popularity is 4.2%. Some players see her as a threat. She has been banned in approximately 8.6% of League rounds.
If you are looking for a dominating damage dealer, then you should definitely not consider this champ. She has the 28th highest kill rate on the Rift amongst all supports. (29 total champions are usually picked for the support position.) Moreover, she has a fairly typical death total with an average of 5 deaths per League of Legends match (28th out of all supports). Furthermore, Lulu has a high KDA ratio (3.1) with 14 assists (4th among all support type champions).
Процент побед на разных этапах игры
Our calculated overall Lulu win rate is the 18th best amongst supports. She is most dominating in the early phase of the game with a 49.9% win rate in that phase. In comparison, she has a 46.2% win rate in the late phase and a 49.7% win rate overall. There is a moderate difference between these Lulu win rates (3.6%). This large difference makes it clear that her power spikes and wanes in different phases of the game. Prepare well.
Lulu is played mostly in the support position. This occurs in 90% of her matches. Support Lulu also has the highest win rate (49.9%) of all positions. Currently, Lulu's meta game is focused on dealing damage. In particular, her kit should primarily be focused on magical damage. Moreover, she is a decent support champion. Dealing physical damage is the least important part of Lulu's playstyle.
If you are not used to Lulu's skills and gameplay, you may find it difficult picking her up for the first time. Most players consider her to not be a difficult champ to pick up. Lulu mostly deals magical damage (74% of her total damage). She doesn't deal a large amount of physical damage and should not be played as a hybrid damage dealer.
Lulu deals a small amount of damage during a regular ranked match (5,311 damage). You probably shouldn't focus on developing her as a powerful champion to defeat your enemies.Rather, you should focus on supporting your allies to beat your enemy.
Лулу:

базовые характеристики
Сопротивление магии
30 - 38.5
Скорость передвижения
330
The yordle mage Lulu is known for conjuring dreamlike illusions and fanciful creatures as she roams Runeterra with her fairy companion Pix. Lulu shapes reality on a whim, warping the fabric of the world, and what she views as the constraints of this...
Каждую неделю мы тщательно анализируем миллионы матчей League of Legends, которые получаем напрямую с серверов Riot. Мы используем продвинутые алгоритмы, чтобы предоставлять наиболее точную статистику чемпиона Лулу онлайн. Данные можно отсортировать по рангу, поэтому процент побед и другая статистика чемпиона Лулу будут максимально актуальными.