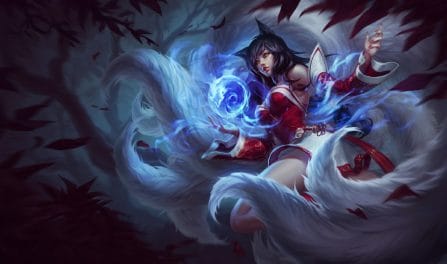 128,989 九尾妖狐 Builds Analyzed
The most important items to include in your Ahri build are: Liandry's Anguish, Rabadon's Deathcap, Horizon Focus, and Cosmic Drive. Additionally, as with our rune suggestions, you can also get quality, focused, Ahri item builds below for the specific enemy team comp you are battling in your current match. Players who added these items in their kits had a significantly better winrate than players who went for other Ahri builds.
九尾妖狐

Items to Defeat Focused Team Comps

电刑

血之滋味

眼球收集器

灵性猎手

法力流系带

超然
If you are trying to beat a well-mixed enemy team comp, you should strongly consider getting her the Electrocute, Taste of Blood, Eyeball Collection, Ingenious Hunter, Manaflow Band, and Transcendence runes. In recent matches, she won the largest fraction of her games when built with these runes. However, if you are playing a different enemy team comp, such as an AD centric or a tank focused team, you should instead scrollbrowse a little below to use the best Ahri runes to win your particular game.
九尾妖狐

Runes to Beat Dedicated Enemy Teams

电刑

血之滋味

眼球收集器

终极猎人

法力流系带

绝对专注
We calculated our Ahri build suggestions by analyzing 128,989 recently ranked League games with her selected. We only propose the best winrate Ahri builds that were built by ranked LoL players enough times for us to suggest them. With so many rounds in our dataset, we are quite confident in our provided builds.
Additionally, to view the top Ahri build designed for a different skill level, please pick a different skill tier from the dropdown menu above. The ideal Ahri builds will change to capture that skill level's meta.