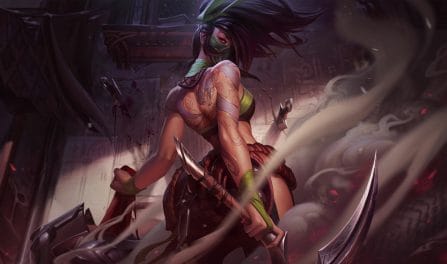 201,043 离群之刺 Matches Analyzed
These champ stats were determined using 201,043 recently played, ranked 离群之刺 matches. MOBA Champion pulls ranked game summaries directly from Riot's own database. Having so many League of Legends rounds to evaluate gives us a lot of confidence in our capability to give you accurate 离群之刺 stats. Across all matches, she didn't perform very well, with a below average win rate of 47.5%.
In the current meta, 离群之刺 is incredibly popular. She has been played in 8% of recently ranked matches. A lot of players see her as a danger. She has been banned in roughly 12.9% of LoL games.
Because of 离群之刺's K/D/A and utility, she has a somewhat poor overall win rate. She does best in the late game, with a winrate of NaN% in that phase. Unfortunately, she does poorest in the late game, where 离群之刺's win rate is NaN%., The difference between her best and worst game phases is a large NaN%. This large difference shows us that her power spikes and wanes in different parts of the match. Prepare well.
离群之刺 is played mostly in the middle position. This occurs in [object Object]% of her games. Middle 离群之刺 also has the highest win rate ([object Object]%) of all positions. At this time, 离群之刺's meta game is focused on dealing damage. Specifically, her gameplay should mostly be centered around magical damage. Moreover, she is a pretty good physical damage dealer champion. Supporting others and crowd control are the least significant part of 离群之刺's build.
If you are not used to her skills and gameplay, you may find it difficult trying her out for the first time. Many players consider her to be a challenging champ to pick up. 离群之刺 primarily does magic damage (88% of her total damage). She doesn't deal a lot of other damage types and should not be considered a hybrid damage dealer..
离群之刺 deals a good amount of damage during a normal match (19,573 damage). You may want to focus on developing her as a damage dealing champion to smash your opponents.
无论是均衡教派还是暗影之拳的称号,都已被阿卡丽抛弃,如今的阿卡丽独来独往,随时可以成为她的人民所需要的夺命武器。虽然她牢牢铭记着她从宗师慎身上学来的一切,但她效忠的保护艾欧尼亚并铲除敌人,每次一条命。或许阿卡丽的出击悄然无声,但她传达的信息将响亮无比:不听命于任何人的刺客最为可怕。
She is a powerful damage dealer in the game with 8.2 kills on average each game. That is one of the highest kill counts among all middles. 'Moreover, she has a somewhat above average death total with an average of 6.1 deaths per LoL round. Furthermore, 离群之刺 has an average KDA ratio (2.2) with 5.4 assists.
We comb through millions of League of Legends matches pulled directly from Riot's servers each week and analyze the data using advanced algorithms to bring you the most accurate 离群之刺 stats online. We analyze the data by tier, so you can find the most relevant 离群之刺 win rate and other stats.