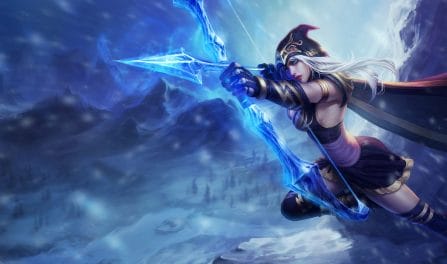 313,753 寒冰射手 Builds Analyzed
The most important items to incorporate into your Ashe build include: Immortal Shieldbow, Wit's End, Rapid Firecannon, and Guinsoo's Rageblade. Furthermore, similar to our rune builds, you can also get quality, dedicated, Ashe item builds farther down for the specific enemy team composition you are facing in your current game. Those who added these pieces in their setups had a significantly better win rate than those who used other Ashe builds.
寒冰射手

Items to Defeat Focused Team Comps

致命节奏

气定神闲

传说:血统

砍倒

绝对专注

风暴聚集
If you are battling a varied enemy team comp, you should strongly consider getting yourself the Lethal Tempo, Presence of Mind, Legend: Bloodline, Cut Down, Absolute Focus, and Gathering Storm runes. In recent games, she won the greatest fraction of her rounds when equiped with these runes. Yet, if you are battling a more homogenous enemy team comp, such as an AP heavy or a crowd control heavy team, you should instead scrollbrowse further down to view the best Ashe runes to defeat your particular combination of foes.
寒冰射手

Runes to Beat Dedicated Enemy Teams

丛刃

恶意中伤

眼球收集器

贪欲猎手

传说:欢欣

致命一击
We came up with our Ashe build suggestions by examining 313,753 recently ranked League rounds with her selected. We only recommend the highest winrate Ashe builds that have been used by ranked League players enough times for us to propose them. With so many games in our dataset, we are quite confident in our recommended builds.
Additionally, to view the best Ashe build from a different skill rank, you can choose a different skill tier from the dropdown menu above. The proposed Ashe builds will update to characterize that division's meta.