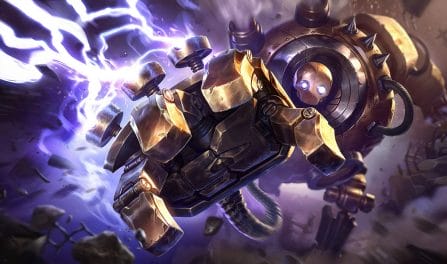 231,270 蒸汽机器人 Matches Analyzed
To generate these 蒸汽机器人 statistics, we analyzed 231,270 recent ranked League matches with him chosen. MOBA Champion downloads competitive game data directly from Riot's servers. This allows us to be very confident in our 蒸汽机器人 statistics. He did do a great job in recent games. He has a decent win rate of 51.5%.
In the current meta, 蒸汽机器人 is incredibly popular. He has been selected in 7.2% of recently ranked matches. He is very often banned during champ select. Obviously, most players see him as a significant threat. In the latest ranked rounds, 蒸汽机器人 was banned 19% of the time.
Thanks to 蒸汽机器人's K/D/A and utility, he has a pretty good overall win rate. He does best in the late game, with a winrate of NaN% in that phase. Unfortunately, he does poorest in the late game, where 蒸汽机器人's winrate is NaN%., The difference between his best and worst game phases is a large NaN%. This large difference makes it clear that his power spikes and fades in different parts of the match. Plan accordingly.
You can see him most often played in the support position. The top win rate position for 蒸汽机器人 is support ([object Object]%). At this time, 蒸汽机器人's meta game is focused on tanking. In particular, his kit should mainly be centered around protecting carries. Furthermore, he is a pretty good magical damage dealer champ. Dealing physical damage is the least critical part of 蒸汽机器人's playstyle.
If you are not used to his abilities and gameplay, you will not find it difficult trying him out for the first time. Most competitors believe him to not be a tough champion to pick up. 蒸汽机器人 primarily causes magic damage (65% of his total damage). He also deals a significant amount of physical damage.
蒸汽机器人 deals a small amount of damage during a typical game (8,729 damage). You probably shouldn't focus on developing him as a damage dealing champion to defeat your foes. Instead, you should dedicate yourself to covering your teammates to beat your enemy.
布里茨是来自祖安的一个巨大的、几乎坚不可摧的机械体,最初被制造出来的目的是为了处理有毒废料。然而他觉得自己存在的意义太过狭隘,于是就改装了自己的形态,以便更好地效力于地沟区的孱弱人群。布里茨无私地使用自己的力量和钢铁之躯保护其他人,伸出长长的机械援手,或者发出能量脉冲,制服任何带来麻烦的人。
If you are looking for a dominating carry, then you should definitely not consider this champ. He has one of the lowest kill counts in League amongst other champions. 'Moreover, he has a fairly typical death rate with an average of 6 deaths per LoL match. Moreover, 蒸汽机器人's KDA is usually high with an average KDA ratio of 2.5 as well as 12.3 assists per game.
We comb through millions of League of Legends matches pulled directly from Riot's servers each week and analyze the data using advanced algorithms to bring you the most accurate 蒸汽机器人 stats online. We analyze the data by tier, so you can find the most relevant 蒸汽机器人 win rate and other stats.