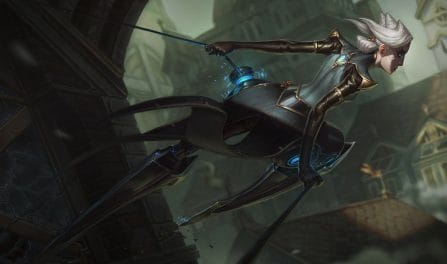 205,166 青钢影 Matches Analyzed
These champ stats were computed using 205,166 recently played, ranked 青钢影 matches. We pull ranked game summaries directly from Riot's own database. Having a large number of LoL games to evaluate gives us a lot of confidence in our ability to provide precise 青钢影 statistics. She did do a great job in recent matches. She has a decent win rate of 51.3%.
In the current meta, 青钢影 is very popular. She has been selected in 6.6% of recently ranked rounds. Some players see her as a danger. She has been banned in roughly 7.5% of League matches.
Thanks to 青钢影's K/D/A and utility, she has a pretty good overall win rate. She does best in the late game, with a winrate of NaN% in that phase. Unfortunately, she does very poorly in the late game, where 青钢影's winrate is NaN%., The difference between her best and worst game phases is a large NaN%. This large difference makes it clear that her power spikes and fades in different parts of the game. Plan accordingly.
青钢影 is most commonly played in the top position. This occurs in [object Object]% of her games. Top 青钢影 also has the highest win rate ([object Object]%) of all positions. At this time, 青钢影's meta game is focused on dealing damage. In particular, her kit should mainly be focused on physical damage. Furthermore, she is a decent tank champ. Supporting others and crowd control are the least critical part of 青钢影's playstyle.
If you are not used to her abilities and gameplay, you will not find it difficult picking her up for the first time. Many competitors consider her to not be a difficult champ to master. 青钢影 mostly causes physical damage (66% of her total damage). She doesn't deal much of other damage types and should not be played as hybrid damage dealer..
青钢影 deals a good amount of damage in a typical match (18,711 damage). You may want to focus on building her as a powerful champ to smash your enemies.
卡蜜尔是菲罗斯家族的首席密探,游走于法律已然失效的边缘地带,小心地维护着皮尔特沃夫这台机器和其下的祖安,保证一切都能顺畅地运转。灵活而精准的她认为,任何浮皮潦草的技术都是必须被禁绝的丑陋行径。她的心智也如同身下的刀刃一般锐利。为了追求极致,她对自己进行了大幅度的海克斯人体增强手术。这也让很多人不禁怀疑,她根本就是一台纯粹的机器,而不是一个女人。
If you are looking for a dominating carry, then you should definitely consider this champ. She has one of the absolute best kill counts in the game among other champions. Furthermore, she has a relatively typical average champion death count (5.8 deaths). Moreover, 青钢影's KDA is usually low with an average KDA ratio of 2.1 as well as 5.8 assists per game.
We comb through millions of League of Legends matches pulled directly from Riot's servers each week and analyze the data using advanced algorithms to bring you the most accurate 青钢影 stats online. We analyze the data by tier, so you can find the most relevant 青钢影 win rate and other stats.