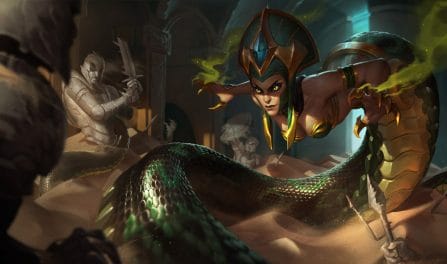 77,949 魔蛇之拥 Builds Analyzed
We came up with our 魔蛇之拥 build guidance by analyzing 77,949 recently ranked League of Legends games with her selected. We only propose the top winrate 魔蛇之拥 builds that were built by ranked League players enough times for us to suggest them. With so many rounds in our dataset, we are confident in our recommended builds.
Additionally, to see the top 魔蛇之拥 build for a different skill division, please select a different one from the dropdown menu above. The ideal champ builds will change to capture that division's meta.
The most critical items to use in your champion's build include: 兰德里的苦楚,炽天使之拥, and 女妖面纱. Players who added these items in their setups had a greater winrate than those who tried for other item builds for 魔蛇之拥.
Furthermore, similar to our rune setups, you can also find great, focused, 魔蛇之拥 item builds farther down for the particular enemy team setup you are battling in your ongoing game.
魔蛇之拥

Items to Defeat Focused Team Comps

征服者

气定神闲

传说:韧性

坚毅不倒

贪欲猎手

血之滋味
If you are playing a well-mixed enemy team arrangement, you should really consider grabbing 魔蛇之拥 the 精密, and 主宰 runes. In recent games, she won the greatest fraction of her matches when equipped with these runes.
However, if you are trying to beat a different enemy team comp, such as an AD centric or a crowd control centric team, you should instead browse a little down to view the best 魔蛇之拥 runes to win your particular game.
魔蛇之拥

Runes to Beat Dedicated Enemy Teams

征服者

气定神闲

传说:韧性

坚毅不倒

贪欲猎手

血之滋味