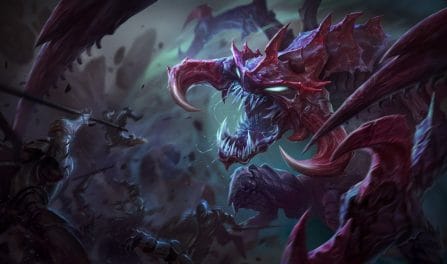 108,152 虚空恐惧 Builds Analyzed
We came up with our 虚空恐惧 build suggestions by analyzing 108,152 recently ranked LoL games with him in them. We only recommend the top winrate 虚空恐惧 builds that were built by ranked League players enough times for us to propose them. With so many matches in our data, we are quite confident in our provided builds.
Additionally, to get 虚空恐惧 builds specific to a unique division, pick a different division from the dropdown menu above. If you select a different division, the recommended 虚空恐惧 build given will capture that tier's meta game.
The best items to include in your champ's build are: 霜火护手,荆棘之甲, and 亡者的板甲. Players who included these pieces in their setups had a much higher winrate than those who went for other 虚空恐惧 builds.
Additionally, like our rune suggestions, you can also get great, dedicated, 虚空恐惧 item builds farther down for the particular enemy team comp you are fighting in your ongoing game.
虚空恐惧

Items to Defeat Focused Team Comps

奥术彗星

法力流系带

超然

焦灼

恶意中伤

终极猎人
If you are battling a mixed enemy team arrangement, you should strongly consider getting him the 巫术, and 主宰 runes. In recent matches, he won the largest fraction of his games when built with these runes.
Yet, if you are facing a more single focused enemy team comp, such as an AP focused or a crowd control focused team, you should instead look below to find the best 虚空恐惧 runes to defeat your particular combination of foes.
虚空恐惧

Runes to Beat Dedicated Enemy Teams

不灭之握

爆破

调节

过度生长

恶意中伤

终极猎人