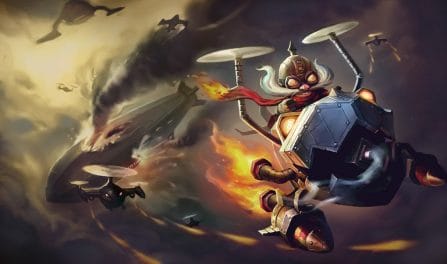 19,703 英勇投弹手 Matches Analyzed
To prepare these Corki stats, we reviewed 19,703 recent ranked League of Legends games with him chosen. MOBA Champion downloads competitive game summaries directly from Riot's servers. This allows us to be very confident in our Corki stats. Across all games, Corki did do very well, with an above average win rate of 51.0%.
Corki has been used very little in the latest ranked League of Legends matches. In the current meta, his popularity is 0.7%. Hardly anyone sees him as a danger. He has only been banned in approximately 0.2% of League games.
He is a powerful damage dealer on the Rift with 7 kills on average each game. That is the 10th highest kill count among all mids. (There are 34 champ in totals that are usually played in in the mid position.) Furthermore, he has a relatively high average death rate (6 deaths; 16th out of all mids). Moreover, Corki has an average KDA ratio (2.3) with 7 assists (13th amongst all mid type champs).
Thanks to Corki's K/D/A and utility, he has a fairly average overall win rate. He does best in the late game, with a winrate of 53.1% in that phase. Unfortunately, he does terribly in the early game, where Corki's winrate is 50.3%. The difference between his best and worst game phases is only 2.8%. This large difference shows us that his power spikes and fades in different parts of the match. Plan well.
You will see him most often played in the mid position. However, that is not the best position for him. The top win rate position for Corki is top (52.5%). Currently, Corki's meta game is focused on dealing damage. Specifically, his gameplay should mainly be focused on physical damage. Additionally, he is an ok damage dealer champ. Supporting others and crowd control are the least critical part of Corki's kit.
If you are not comfortable with Corki's skills and tactics, you may find it difficult picking him up for the first time. Many competitors consider him to not be a challenging champion to master. Corki mostly deals magical damage (86% of his total damage). He doesn't deal a significant amount of physical damage and should not be played as a hybrid damage dealer.
Corki deals a lot of damage during a typical match (22,941 damage). You should focus on developing him as a damage dealing champ to destroy your enemies.
The yordle pilot Corki loves two things above all others: flying, and his glamorous mustache... though not necessarily in that order. After leaving Bandle City, he settled in Piltover and fell in love with the wondrous machines he found there. He...
We comb through millions of League of Legends matches pulled directly from Riot's servers each week and analyze the data using advanced algorithms to bring you the most accurate 英勇投弹手 stats online. We analyze the data by tier, so you can find the most relevant 英勇投弹手 win rate and other stats.