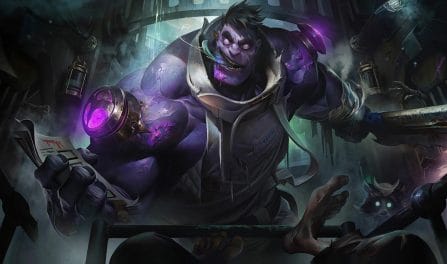 179,140 祖安狂人 Matches Analyzed
To prepare these 祖安狂人 stats, we reviewed 179,140 recent competitive League of Legends rounds with him chosen. MOBA Champion downloads competitive match data directly from Riot's servers. This allows us to be very confident in our 祖安狂人 stats. Across all games, 祖安狂人 did perform very well, with an above average win rate of 51.8%.
In the current meta, 祖安狂人 is very popular. He has been used in 6.8% of recently ranked matches. He is often banned during champion select. Obviously, many players see him as a substantial threat. In the latest ranked games, 祖安狂人 was banned 9.2% of the time.
Because of 祖安狂人's K/D/A and utility, he has a pretty good overall win rate. He does very well in the late game, with a winrate of NaN% in that phase. Unfortunately, he does very poorly in the late game, where 祖安狂人's win rate is NaN%., The difference between his best and worst game phases is a large NaN%. This large difference makes it clear that his power spikes and fades in different phases of the match. Prepare well.
You will find him typically played in the top position. The best win rate position for 祖安狂人 is top ([object Object]%). At this time, 祖安狂人's meta game is focused on tanking. Specifically, his gameplay should mainly be centered around shielding carries. Moreover, he is an ok physical damage dealer champion. Supporting others and crowd control are the least significant part of 祖安狂人's playstyle.
You should anticipate having to spend a decent amount of time practicing and learning to pick up 祖安狂人. Many League players consider he is an average difficulty champion to main. 祖安狂人 primarily causes magic damage (68% of his total damage). He also deals a significant amount of physical damage.
祖安狂人 deals tons of damage in a regular ranked game (20,522 damage). You should focus on developing him as a damage dealing champ to destroy your foes.
精神与认知彻底崩坏、杀人的欲望永不满足、浑身皮肤紫得发黑,这就是蒙多医生,这就是祖安人在漆黑的夜里不敢出门的原因。如今的他自封为一名医生,但在以前,他是祖安最臭名昭著的疯人院里的病人。在"治愈"疯人院里的全体工作人员后,蒙多医生在过去收治他的空病房里搭起了手术台,有模有样地还原起他当年亲历的各种非人实验。蒙多医生的药柜里装满了瓶瓶罐罐,脑子里却丝毫没有半点医学知识。随着他把药剂一针针注入体内,他的外貌也变得愈发丑陋骇人,把误入他办公室周围的"病人"吓得魂飞胆散。
If you are looking for a dominating carry, then you should maybe consider this champ. He has one of the top kill totals in the game amongst other champs. Furthermore, he has a relatively typical average champion death rate (5.1 deaths). Furthermore, 祖安狂人 has an average KDA ratio (2.3) with 6.9 assists.
We comb through millions of League of Legends matches pulled directly from Riot's servers each week and analyze the data using advanced algorithms to bring you the most accurate 祖安狂人 stats online. We analyze the data by tier, so you can find the most relevant 祖安狂人 win rate and other stats.