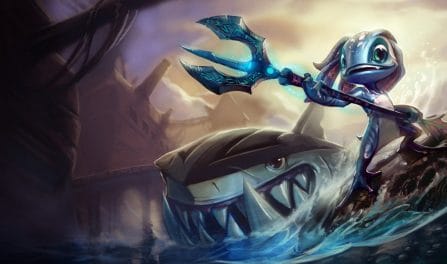 164,692 潮汐海灵 Matches Analyzed
These champion statistics were prepared using 164,692 recently played, ranked 潮汐海灵 matches. MOBA Champion downloads competitive game data directly from Riot's own database. Having so many League rounds to evaluate gives us a lot of confidence in our ability to provide accurate 潮汐海灵 stats. He did do a good job in recent games. He racked up an average win rate of 50.4%.
In the current meta, 潮汐海灵 is very popular. He has been used in 5.3% of recently ranked games. Some players see him as a threat. He has been banned in approximately 9.1% of League games.
Thanks to 潮汐海灵's K/D/A and utility, he has a fairly average overall win rate. He does best in the late game, with a winrate of NaN% in that phase. Unfortunately, he does poorest in the late game, where 潮汐海灵's win rate is NaN%., The difference between his best and worst game phases is a large NaN%. This sizeable difference makes it clear that his power spikes and wanes in different parts of the round. Prepare well.
潮汐海灵 is played mostly in the middle position. This happens in [object Object]% of his rounds. Middle 潮汐海灵 also has the highest win rate ([object Object]%) of all positions. At this time, 潮汐海灵's meta game is centered around dealing damage. In particular, his kit should mainly be focused on magical damage. Moreover, he is an ok physical damage dealer champion. Supporting others and crowd control are the least important part of 潮汐海灵's build.
You should expect to have to to dedicate a decent amount of time practicing and learning to get good at playing 潮汐海灵. Most League of Legends players consider he is an average difficulty champ to use. 潮汐海灵 primarily deals magic damage (80% of his total damage). He doesn't deal much of other damage types and should not be played as hybrid damage dealer..
潮汐海灵 deals a good amount of damage in a normal round (18,627 damage). You could focus on building him as a powerful champ to defeat your foes.
菲兹是一名水陆两栖的约德尔人,生活在比尔吉沃特周围的群礁之间。他会经常把迷信的船长们抛进海中的什一税捡起来物归原主。不过即使是最粗鲁的水手也知道不要招惹他,因为这里流传着的各种教训,都是因为低估了这个小鬼。经常有人误会他的行为只是海洋精灵的任性举动,而事实上他可以号令来自深渊的巨型猛兽,而且不管是盟友还是敌人他都喜欢捉弄。
If you are looking for a dominating carry, then you should definitely consider this champ. He has one of the absolute best kill totals in the game among all champions. 'Moreover, he has a somewhat typical death total with an average of 6 deaths per League game. Furthermore, 潮汐海灵 has an average KDA ratio (2.4) with 6.1 assists.
We comb through millions of League of Legends matches pulled directly from Riot's servers each week and analyze the data using advanced algorithms to bring you the most accurate 潮汐海灵 stats online. We analyze the data by tier, so you can find the most relevant 潮汐海灵 win rate and other stats.