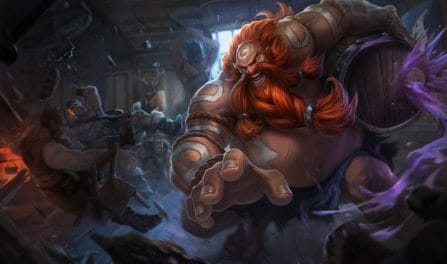 29,199 酒桶 Builds Analyzed
The most critical items to use in your Gragas build are: Night Harvester, Rabadon's Deathcap, Void Staff, and Morellonomicon. Furthermore, like our rune builds, you can also get quality, focused, Gragas item builds farther down for the specific enemy team composition you are battling in your current game. Those who added these items in their gear had a greater winrate than players who worked towards other Gragas builds.
酒桶

Items to Defeat Focused Team Comps

相位猛冲

灵光披风

超然

水上行走

猛然冲击

贪欲猎手
If you are facing a mixed enemy team comp, you should strongly consider getting Gragas the Phase Rush, Nimbus Cloak, Transcendence, Waterwalking, Sudden Impact, and Ravenous Hunter runes. In recent games, he won the greatest percentage of his rounds when equiped with these runes. Yet, if you are battling a different enemy team composition, such as an AP heavy or a crowd control heavy team, you should instead scrollbrowse below to view the best Gragas runes to defeat your particular combination of foes.
酒桶

Runes to Beat Dedicated Enemy Teams

黑暗收割

猛然冲击

眼球收集器

无情猎手

水上行走

超然
We established our Gragas build recommendations by examining 29,199 recently ranked LoL matches with him in them. We only advise the best winrate Gragas builds that have been built by ranked LoL players enough times for us to propose them. With so many rounds in our dataset, we are quite confident in our recommended builds.
Additionally, to see Gragas builds dedicated to a unique division, choose a different rank from the dropdown menu found above. If you change the selection, the best Gragas build given will capture that division's meta gameplay.