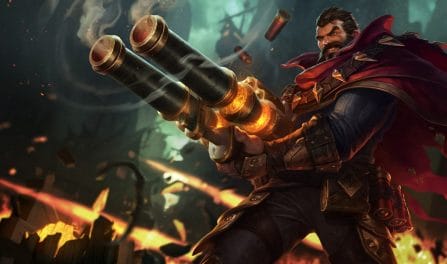 172,862 法外狂徒 Builds Analyzed
The most critical items to incorporate into your Graves build are: Eclipse, Lord Dominik's Regards, Essence Reaver, and Serpent's Fang. Furthermore, similar to our rune advice, you can also get great, focused, Graves item builds further down for the specific enemy team composition you are fighting in your current match. Players who added these pieces in their gear had a greater winrate than players who tried for other builds for Graves.
法外狂徒

Items to Defeat Focused Team Comps

迅捷步法

凯旋

传说:血统

坚毅不倒

贪欲猎手

猛然冲击
If you are playing a mixed enemy team comp, you should strongly consider getting yourself the Fleet Footwork, Triumph, Legend: Bloodline, Last Stand, Ravenous Hunter, and Sudden Impact runes. In recent matches, he won the greatest percentage of his rounds when built with these runes. Yet, if you are fighting a more single focused enemy team comp, such as an AP centric or a CC focused team, you should instead look a little down to see the best Graves runes to defeat your particular enemy team.
法外狂徒

Runes to Beat Dedicated Enemy Teams

电刑

猛然冲击

眼球收集器

贪欲猎手

传说:欢欣

凯旋
Our Graves builds come out of our examination of 172,862 recently ranked Graves rounds. Only the highest winrate Graves builds that are also commonly used are advised by us. Since we have so many rounds in our database, we are very sure that we can provide high quality builds for Graves to help ensure you win your next match!
Additionally, to view the best Graves build for a different skill rank, please choose a different one from the dropdown menu above. The ideal Graves builds will update to capture that division's meta.