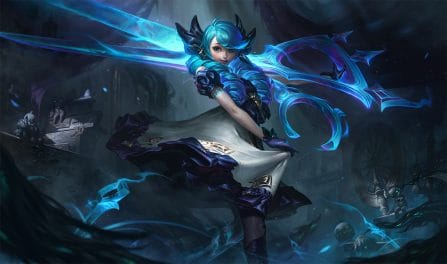 109,867 灵罗娃娃 Matches Analyzed
To generate these 灵罗娃娃 stats, we reviewed 109,867 recent ranked LoL games with her chosen. We pull competitive match results directly from Riot's servers. This gives us great confidence in our 灵罗娃娃 statistics. She didn't do a great job in recent rounds. She has a dismal win rate of 45.7%.
灵罗娃娃 has been picked somewhat often in recent ranked League of Legends rounds. In the current meta, her popularity is 4.5%. She is often banned during champion select. Obviously, many players see her as a substantial threat. In recent ranked games, 灵罗娃娃 was banned 8.7% of the time.
Thanks to 灵罗娃娃's K/D/A and utility, she has a terrible overall win rate. She does very well in the late game, with a winrate of NaN% in that phase. Unfortunately, she does poorest in the late game, where 灵罗娃娃's winrate is NaN%., The difference between her best and worst game phases is a large NaN%. This sizeable difference makes it clear that her power spikes and wanes in different parts of the match. Plan accordingly.
灵罗娃娃 is played mostly in the top position. This occurs in [object Object]% of her matches. Yet, top 灵罗娃娃 has the highest win rate ([object Object]%) of all positions but is less popular of a position (played [object Object]% of the time). Currently, 灵罗娃娃's meta game is focused on dealing damage. Specifically, her build should mainly be focused on physical damage. Additionally, she is a decent magical damage dealer champ. Supporting others and crowd control are the least important part of 灵罗娃娃's playstyle.
If you are not used to her skills and tactics, you may find it difficult trying her out for the first time. Most competitors consider her to not be a challenging champ to master. 灵罗娃娃 mostly does magic damage (52% of her total damage). She also deals a large amount of physical damage.
灵罗娃娃 deals a decent amount of damage in a typical match (17,943 damage). You could focus on building her as a damage dealing champion to crush your enemies.
格温是一个被魔法赋予了生命的玩偶,而她所挥使的正是当初创造了她自己的工具。格温无比珍惜这份机缘,踏出的每一步都承载着曾经主人的爱意。格温拥有控制"圣霭"的能力。这是一种来自远古的庇护性法术,她的剪刀、衣针和缝线都因圣霭而得到了庇佑。即便有这么多新奇的事物等待着格温,她既感到兴奋,但又带着强烈的使命感,决心拯救在这个破碎世界里艰难挣扎的人们。
If you are looking for a dominating carry, then you should maybe consider this champ. She has one of the top kill totals in League among all champs. Additionally, she has a relatively high average champion death count (6.3 deaths). Additionally, 灵罗娃娃 has a low KDA ratio (1.6) with 4.8 assists.
We comb through millions of League of Legends matches pulled directly from Riot's servers each week and analyze the data using advanced algorithms to bring you the most accurate 灵罗娃娃 stats online. We analyze the data by tier, so you can find the most relevant 灵罗娃娃 win rate and other stats.