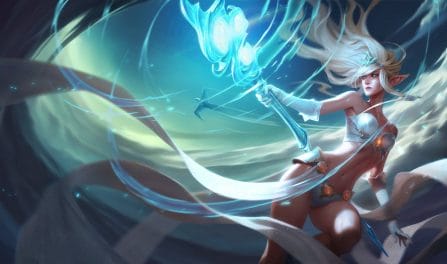 110,923 风暴之怒 Matches Analyzed
These champion statistics were calculated using 110,923 recently played, ranked 风暴之怒 matches. MOBA Champion downloads competitive match results directly from Riot's own database. Having so many League matches to analyze gives us a lot of confidence in our ability to provide accurate 风暴之怒 statistics. Across all matches, 风暴之怒 did perform very well, with an average win rate of 50.2%.
In the current meta, 风暴之怒 is somewhat popular. She has been selected in 3.5% of recently ranked rounds. Hardly anyone sees her as a danger. She has only been banned in roughly 0.3% of League rounds.
Thanks to 风暴之怒's K/D/A and utility, she has a fairly average overall win rate. She does best in the late game, with a winrate of NaN% in that phase. Unfortunately, she does very poorly in the late game, where 风暴之怒's win rate is NaN%., The difference between her best and worst game phases is a large NaN%. This large difference makes it clear that her power spikes and fades in different phases of the round. Prepare well.
风暴之怒 is most commonly played in the support position. This occurs in [object Object]% of her matches. Support 风暴之怒 also has the highest win rate ([object Object]%) of all positions. At this time, 风暴之怒's meta game is centered around utility and support. Specifically, her kit should mainly be focused on assisting others. Additionally, she is a pretty good magical damage dealer champion. Dealing physical damage is the least critical part of 风暴之怒's playstyle.
You should anticipate having to spend a decent amount of time practicing and learning to get good with 风暴之怒. Most LoL players believe she is an average difficulty champion to get good at. 风暴之怒 primarily does magic damage (85% of her total damage). She doesn't deal much of other damage types and should not be considered a hybrid damage dealer..
风暴之怒 deals only a little damage during a typical match (7,802 damage). You probably shouldn't focus on developing her as a damage dealing champ to crush your foes. Rather, you should focus on covering your teammates to beat your enemy.
风暴是她的武器,符文之地是她的家园。神秘的迦娜是风元素的精灵,保护着祖安城内无依无靠的人们。有人相信她的诞生是源于符文之地水手们的祈愿,他们会祈祷友善的风伴他们渡过险恶的海域,战胜无情的风暴。后来她的眷顾和庇护被召唤到了祖安深处,在那里,迦娜成为了无助之人的希望灯塔。没人知道她会在何时何地出现,但大多数时候,她的到来都意味着援手。
She is a weak damage dealer in the game with 1.7 kills on average each game. That is one of the lowest kill rates amongst all supports. 'Moreover, she has a somewhat typical death rate with an average of 5.2 deaths per League of Legends game. Additionally, 风暴之怒's KDA is usually very high with an average KDA ratio of 3.0 as well as 13.7 assists per match.
We comb through millions of League of Legends matches pulled directly from Riot's servers each week and analyze the data using advanced algorithms to bring you the most accurate 风暴之怒 stats online. We analyze the data by tier, so you can find the most relevant 风暴之怒 win rate and other stats.