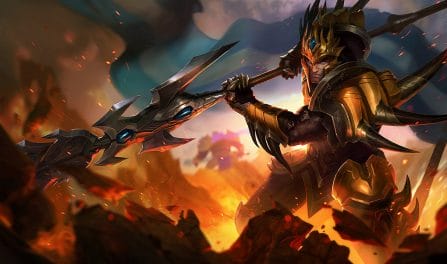 31,039 德玛西亚皇子 Matches Analyzed
To prepare these Jarvan IV stats, we reviewed 31,039 recent competitive League matches with him chosen. We pull ranked game summaries directly from Riot's servers. This allows us to be very confident in our Jarvan IV stats. He didn't do a great job in recent rounds. He has an average win rate of 49.4%.
Jarvan IV has been used very little in recent ranked LoL rounds. In the current meta, his popularity is 1.0%. Hardly anyone sees him as a danger. He has only been banned in approximately 0.1% of League of Legends matches.
He is an average damage dealer in the game with 6 kills on average each game. That is the 26th highest kill count among all jungles. (There are 39 total champs that are most commonly played in in the jungle position.) Additionally, he has a fairly typical average death rate (6 deaths; 19th out of all jungles). Moreover, Jarvan IV has a high KDA ratio (3.0) with 12 assists (2nd amongst all jungle type champs).
Our calculated overall Jarvan IV win rate is the 23rd highest amonst jungles. He is most dominating in the early phase of the game with a 49.8% win rate in that phase. In contrast, he has a 48.1% win rate in the mid phase and a 49.4% win rate overall. There is only a small difference between these Jarvan IV win rates (1.8%). This negligible difference makes it clear that his power is consistent throughout a whole match.
Jarvan IV is played mostly in the jungle position. This occurs in 86% of his games. Jungle Jarvan IV also has the highest win rate (49.9%) of all positions. At this time, Jarvan IV's meta game is centered around tanking. In particular, his kit should mostly be focused on shielding carries. Furthermore, he is an ok damage dealer champion. Dealing magical damage is the least critical part of Jarvan IV's playstyle.
If you are not comfortable with Jarvan IV's abilities and gameplay, you may find it difficult trying him out for the first time. Many competitors consider him to not be a tough champion to master. Jarvan IV primarily deals physical damage (83% of his total damage). He doesn't deal a large amount of magical damage and shouldn't be played as a hybrid damage dealer.
Jarvan IV deals a good amount of damage over the course of a regular ranked match (13,729 damage). You may want to focus on developing him as a powerful champ to smash your opponents.
Prince Jarvan, scion of the Lightshield dynasty, is heir apparent to the throne of Demacia. Raised to be a paragon of his nation's greatest virtues, he is forced to balance the heavy expectations placed upon him with his own desire to fight on the front...
We comb through millions of League of Legends matches pulled directly from Riot's servers each week and analyze the data using advanced algorithms to bring you the most accurate 德玛西亚皇子 stats online. We analyze the data by tier, so you can find the most relevant 德玛西亚皇子 win rate and other stats.