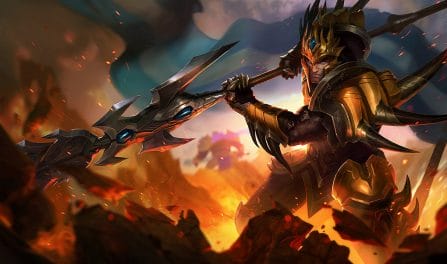 146,144 德玛西亚皇子 Matches Analyzed
These champion statistics were prepared using 146,144 recently played, ranked 德玛西亚皇子 matches. MOBA Champion downloads ranked match results directly from Riot's own database. Having so many League of Legends games to evaluate gives us a lot of confidence in our ability to give you accurate 德玛西亚皇子 stats. He did do a good job in recent matches. He has a decent win rate of 51.2%.
In the current meta, 德玛西亚皇子 is very popular. He has been selected in 5.1% of recently ranked games. He is rarely banned during champion select. Obviously, very few players see him as a significant threat. In recent ranked matches, 德玛西亚皇子 was banned 1.9% of the time.
Because of 德玛西亚皇子's K/D/A and utility, he has a pretty good overall win rate. He does best in the late game, with a winrate of NaN% in that phase. Unfortunately, he does very poorly in the late game, where 德玛西亚皇子's win rate is NaN%., The difference between his best and worst game phases is a large NaN%. This sizeable difference indicates that his power spikes and fades in different parts of the game. Prepare well.
You can find him typically laning in the jungle position. The best win rate position for 德玛西亚皇子 is jungle ([object Object]%). Currently, 德玛西亚皇子's meta game is centered around tanking. In particular, his gameplay should mostly be focused on shielding carries. Additionally, he is a pretty good physical damage dealer champion. Dealing magical damage is the least significant part of 德玛西亚皇子's gameplay.
If you are not used to his skills and gameplay, you may find it difficult trying him out for the first time. Many players consider him to not be a difficult champion to learn. 德玛西亚皇子 primarily causes physical damage (85% of his total damage). He doesn't deal much of other damage types and should not be played as hybrid damage dealer..
德玛西亚皇子 deals a decent amount of damage during a normal round (14,325 damage). You could focus on building him as a damage dealing champion to smash your foes.
皇子嘉文四世是皇家的血脉,意味着他便是德玛西亚的下一任国王。他自小被寄予厚望,有朝一日能够成为德玛西亚的楷模,而如此沉重的负担令他的心中充满了挣扎。在战场上,他英勇无畏的气势和一往无前的决心鼓舞着全军上下,显现出身为人主的真实才干。
He is an average damage dealer on the Rift with 6 kills on average per match. That is one of the highest kill rates among all jungles. 'Moreover, he has a somewhat typical death rate with an average of 5.7 deaths per League round. Moreover, 德玛西亚皇子 has a high KDA ratio (3.2) with 12.3 assists.
We comb through millions of League of Legends matches pulled directly from Riot's servers each week and analyze the data using advanced algorithms to bring you the most accurate 德玛西亚皇子 stats online. We analyze the data by tier, so you can find the most relevant 德玛西亚皇子 win rate and other stats.