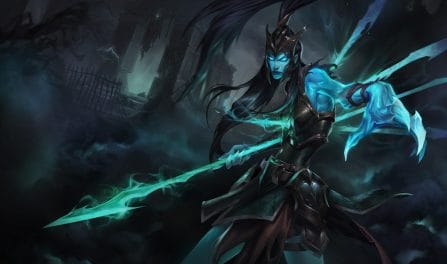 50,816 复仇之矛 Matches Analyzed
These champ statistics were calculated using 50,816 recently played, ranked 复仇之矛 games. We pull ranked match summaries directly from Riot's own database. Having a large number of LoL matches to analyze gives us great confidence in our ability to provide accurate 复仇之矛 stats. Across all games, she did not do very well, with a below average win rate of 47.2%.
复仇之矛 has been used very little in the latest ranked League matches. In the current meta, her popularity is 1.7%. She is rarely banned during champion select. Obviously, very few players see her as a huge threat. In the latest ranked matches, 复仇之矛 was banned 0.3% of the time.
As a result of 复仇之矛's K/D/A and utility, she has a somewhat poor overall win rate. She does very well in the late game, with a winrate of NaN% in that phase. Unfortunately, she does poorest in the late game, where 复仇之矛's win rate is NaN%., The difference between her best and worst game phases is a large NaN%. This sizeable difference indicates that her power spikes and wanes in different phases of the match. Plan accordingly.
You will see her typically played in the bottom position. The best win rate position for 复仇之矛 is bottom ([object Object]%). Currently, 复仇之矛's meta game is focused on dealing damage. In particular, her build should primarily be focused on physical damage. Supporting others and crowd control are the least significant part of 复仇之矛's playstyle.
You should expect to have to to spend a decent amount of time practicing and learning to get good at playing 复仇之矛. Many LoL players think she is an average difficulty champion to master. 复仇之矛 mostly deals physical damage (89% of her total damage). She doesn't deal a lot of other damage types and should not be played as hybrid damage dealer..
复仇之矛 deals a decent amount of damage during a regular ranked round (16,595 damage). You could focus on building her as a damage dealing champion to smash your enemies.
卡莉丝塔是充满复仇怨念的幽灵,是不灭的复仇之魂,是召唤自暗影岛的噩梦,专门猎杀背信弃义之人。因遭人背叛而受害的人会以血泪盼望着复仇,但只有甘愿献上自己灵魂的人,才能获得卡莉丝塔的回应。所有被卡莉丝塔盯上的人都将不可避免地遭遇不幸,因为这位死亡猎手完成誓约的方式只有一种,那就是她灵魂标枪上的冷酷灵火。
If you are looking for a dominating damage dealer, then you should definitely consider this champion. She has one of the absolute best kill counts in the game among all champions. 'Moreover, she has a fairly above average death total with an average of 6.3 deaths per League match. Furthermore, 复仇之矛 has an average KDA ratio (2.2) with 6.6 assists.
We comb through millions of League of Legends matches pulled directly from Riot's servers each week and analyze the data using advanced algorithms to bring you the most accurate 复仇之矛 stats online. We analyze the data by tier, so you can find the most relevant 复仇之矛 win rate and other stats.