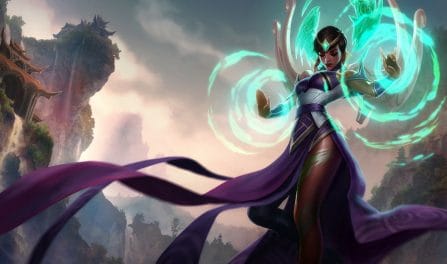 158,170 天启者 Matches Analyzed
To generate these 天启者 stats, we reviewed 158,170 recent ranked LoL rounds with her chosen. We pull ranked game results directly from Riot's servers. This gives us great confidence in our 天启者 stats. She did not do a good job in recent games. She has a poor win rate of 47.9%.
天启者 has been picked somewhat often in the latest ranked League of Legends rounds. In the current meta, her popularity is 5.7%. She is rarely banned during champion select. Obviously, very few players see her as a major threat. In recent ranked games, 天启者 was banned 1% of the time.
Thanks to 天启者's K/D/A and utility, she has a somewhat poor overall win rate. She does best in the late game, with a winrate of NaN% in that phase. Unfortunately, she does worst in the late game, where 天启者's win rate is NaN%., The difference between her best and worst game phases is a large NaN%. This sizeable difference indicates that her power spikes and wanes in different parts of the round. Plan accordingly.
You can see her most often played in the support position. However, that is not the best position for her. The highest win rate position for 天启者 is top ([object Object]%). At this time, 天启者's meta game is centered around dealing damage. In particular, her kit should mostly be centered around magical damage. Furthermore, she is a pretty good tank champ. Dealing physical damage is the least significant part of 天启者's playstyle.
If you are not used to her abilities and gameplay, you may find it difficult picking her up for the first time. Most players believe her to not be a difficult champion to learn. 天启者 mostly causes magic damage (87% of her total damage). She doesn't deal a lot of other damage types and should not be considered a hybrid damage dealer..
天启者 deals a small amount of damage in a normal match (10,474 damage). You probably shouldn't focus on developing her as a damage dealing champ to smash your enemies. Instead, players should focus on covering your allies to win.
要说哪位英雄能代表艾欧尼亚的精神传统,没有谁比卡尔玛更合适。她是一个古代灵魂在当代的化身,经历过无数次转世,每次获得新生都会继承以前的全部记忆,同时也被赐予常人无法理解的力量。她在最近一次遭遇危难之时倾尽全力引领她的人民,但她知道,要获得和平与和谐,就必须付出重大代价——既是对她自己,也是对她深爱的土地。
She is a weak damage dealer in the game with 2.2 kills on average per match. That is one of the lowest kill counts among all supports. 'Moreover, she has a fairly typical death rate with an average of 5.5 deaths per LoL game. Additionally, 天启者 has a high KDA ratio (2.7) with 12.6 assists.
We comb through millions of League of Legends matches pulled directly from Riot's servers each week and analyze the data using advanced algorithms to bring you the most accurate 天启者 stats online. We analyze the data by tier, so you can find the most relevant 天启者 win rate and other stats.