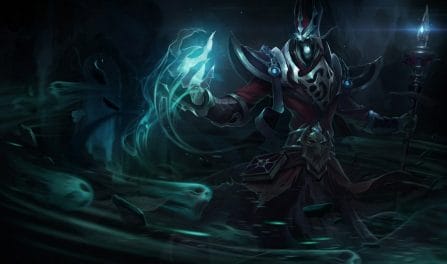 52,389 死亡颂唱者 Matches Analyzed
To generate these 死亡颂唱者 stats, we reviewed 52,389 recent competitive League rounds with him chosen. MOBA Champion pulls competitive match summaries directly from Riot's servers. This allows us to be very confident in our 死亡颂唱者 statistics. He didn't do a great job in recent games. He has a poor win rate of 49%.
死亡颂唱者 has been picked only occasionally in recent ranked LoL rounds. In the current meta, his popularity is 2.4%. He is rarely banned during champion select. Obviously, very few players see him as a significant threat. In recent ranked matches, 死亡颂唱者 was banned 0.8% of the time.
Thanks to 死亡颂唱者's K/D/A and utility, he has a somewhat poor overall win rate. He does very well in the late game, with a winrate of NaN% in that phase. Unfortunately, he does terribly in the late game, where 死亡颂唱者's winrate is NaN%., The difference between his best and worst game phases is a large NaN%. This large difference makes it clear that his power spikes and fades in different phases of the match. Prepare well.
You will find him most often used in the jungle position. However, that is not the best position for him. The top win rate position for 死亡颂唱者 is bottom ([object Object]%). Currently, 死亡颂唱者's meta game is centered around dealing damage. Specifically, his kit should mostly be focused on magical damage. Dealing physical damage is the least important part of 死亡颂唱者's kit.
You should expect to have to to spend a decent amount of time practicing and learning to get good with 死亡颂唱者. Many LoL players believe he is an average difficulty champ to main. 死亡颂唱者 mostly does magic damage (96% of his total damage). He doesn't deal much of other damage types and should not be considered a hybrid damage dealer..
死亡颂唱者 deals a lot of damage during a regular ranked game (27,766 damage). You should focus on building him as a powerful champ to destroy your enemies.
卡尔萨斯是湮灭的使者,是不死的亡灵。从来都是未见其恐怖身影,先闻其鬼魅挽歌。活着的人惧怕那些永世不得超生的亡灵,但卡尔萨斯却在亡灵的存在中只看到了美丽和纯洁,这是生与死的完美融合。当卡尔萨斯从暗影岛获得新生的时候,他决心要担任不死亡灵的使徒,把死亡的欣喜带给所有凡人。
If you are looking for a dominating damage dealer, then you should definitely consider this champ. He has one of the absolute best kill rates in League amongst other champions. Additionally, he has a fairly high average champion death rate (7.2 deaths). Moreover, 死亡颂唱者's KDA is typically high with an average KDA ratio of 2.4 as well as 9.5 assists per game.
We comb through millions of League of Legends matches pulled directly from Riot's servers each week and analyze the data using advanced algorithms to bring you the most accurate 死亡颂唱者 stats online. We analyze the data by tier, so you can find the most relevant 死亡颂唱者 win rate and other stats.