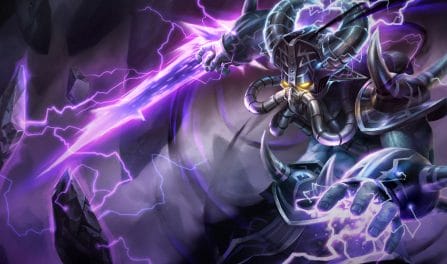 105,518 虚空行者 Matches Analyzed
These champ stats were prepared using 105,518 recently played, ranked 虚空行者 games. MOBA Champion downloads competitive match data directly from Riot's own database. Having a large number of League rounds to analyze gives us great confidence in our ability to give you accurate 虚空行者 statistics. He did not do a good job in recent games. He has an average win rate of 49.5%.
虚空行者 has been used only occasionally in recent ranked League games. In the current meta, his popularity is 3.4%. He is sometimes banned during champion select. Obviously, some players see him as a substantial threat. In the latest ranked matches, 虚空行者 was banned 4.7% of the time.
Because of 虚空行者's K/D/A and utility, he has a fairly average overall win rate. He does very well in the late game, with a winrate of NaN% in that phase. Unfortunately, he does poorest in the late game, where 虚空行者's winrate is NaN%., The difference between his best and worst game phases is a large NaN%. This sizeable difference makes it clear that his power spikes and wanes in different parts of the match. Prepare accordingly.
虚空行者 is played mostly in the middle position. This occurs in [object Object]% of his rounds. Middle 虚空行者 also has the highest win rate ([object Object]%) of all positions. At this time, 虚空行者's meta game is focused on dealing damage. Specifically, his kit should mostly be centered around magical damage. Additionally, he is a pretty good tank champ. Dealing physical damage is the least important part of 虚空行者's playstyle.
If you are not familiar with his abilities and gameplay, you probably will find it difficult trying him out for the first time. Many competitors consider him to be a tough champ to master. 虚空行者 primarily causes magic damage (90% of his total damage). He doesn't deal much of other damage types and should not be considered a hybrid damage dealer..
虚空行者 deals a good amount of damage over the course of a regular ranked round (19,280 damage). You could focus on building him as a powerful champion to crush your foes.
在世界上最黑暗的地方,卡萨丁切出了一道燃烧的裂口,他知道自己已经时日无多。他曾是恕瑞玛地区的向导和冒险家,后来选择在恕瑞玛南方平静的部落中安家落户——直到那一天,他的村庄被虚空吞噬。卡萨丁发誓要报仇雪恨,于是整合了许多秘法器物和禁忌之术,以便应对前方的险阻。最后,卡萨丁动身前往艾卡西亚的废土,准备面对任何虚空的造物,寻找那位自封的先知,玛尔扎哈。
He is a powerful damage dealer on the Rift with 7.8 kills on average each game. That is one of the highest kill rates amongst all middles. Furthermore, he has a relatively typical average champion death rate (5.7 deaths). Moreover, 虚空行者 has an average KDA ratio (2.4) with 5.7 assists.
We comb through millions of League of Legends matches pulled directly from Riot's servers each week and analyze the data using advanced algorithms to bring you the most accurate 虚空行者 stats online. We analyze the data by tier, so you can find the most relevant 虚空行者 win rate and other stats.