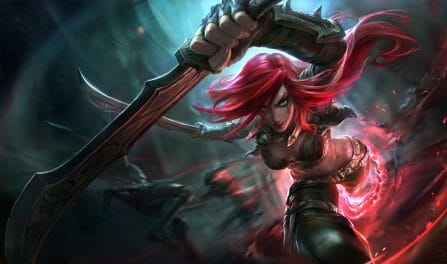 238,710 不祥之刃 Matches Analyzed
These champ stats were prepared using 238,710 recently played, ranked 不祥之刃 games. MOBA Champion pulls ranked game data directly from Riot's own database. Having a large number of League games to evaluate gives us a lot of confidence in our capability to provide accurate 不祥之刃 statistics. She did not do a good job in recent games. She racked up an average win rate of 49.6%.
In the current meta, 不祥之刃 is incredibly popular. She has been used in 7.6% of recently ranked rounds. A lot of players see her as a danger. She has been banned in about 11% of League of Legends rounds.
Thanks to 不祥之刃's K/D/A and utility, she has a fairly average overall win rate. She does very well in the late game, with a winrate of NaN% in that phase. Unfortunately, she does worst in the late game, where 不祥之刃's win rate is NaN%., The difference between her best and worst game phases is a large NaN%. This large difference makes it clear that her power spikes and wanes in different parts of the game. Prepare well.
不祥之刃 is most commonly played in the middle position. This occurs in [object Object]% of her games. Middle 不祥之刃 also has the highest win rate ([object Object]%) of all positions. At this time, 不祥之刃's meta game is focused on dealing damage. In particular, her build should primarily be focused on magical damage. Supporting others and crowd control are the least significant part of 不祥之刃's playstyle.
If you are not used to her skills and tactics, you probably will find it difficult picking her up for the first time. Many players believe her to be a challenging champion to master. 不祥之刃 mostly causes magic damage (85% of her total damage). She doesn't deal a lot of other damage types and should not be considered a hybrid damage dealer..
不祥之刃 deals tons of damage over the course of a regular ranked match (20,642 damage). You should focus on developing her as a powerful champ to crush your enemies.
果断坚决、心狠手辣,卡特琳娜是诺克萨斯的顶尖刺客。作为传奇将军杜·克卡奥的长女,她凭借出其不意的迅猛刺杀很快声名鹊起。强烈的野心曾经驱使她挑战重兵把守的暗杀目标,甚至不惜冒险让友军暴露在危险中。不过无论是怎样的任务,卡特琳娜都会毫不迟疑地在锯刃匕首的风暴中履行自己的使命。
She is a powerful damage dealer on the Rift with 9.3 kills on average per game. That is one of the highest kill rates amongst all middles. Furthermore, she has a relatively high average champion death count (6.8 deaths). Furthermore, 不祥之刃 has an average KDA ratio (2.2) with 5.9 assists.
We comb through millions of League of Legends matches pulled directly from Riot's servers each week and analyze the data using advanced algorithms to bring you the most accurate 不祥之刃 stats online. We analyze the data by tier, so you can find the most relevant 不祥之刃 win rate and other stats.