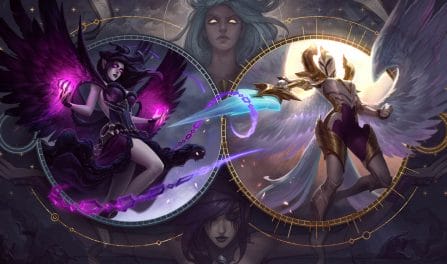 149,590 正义天使 Matches Analyzed
These champion statistics were computed using 149,590 recently played, ranked 正义天使 matches. MOBA Champion pulls competitive game summaries directly from Riot's own database. Having a large number of League matches to analyze gives us great confidence in our capability to give you accurate 正义天使 stats. She did do a great job in recent games. She has an average win rate of 50.9%.
正义天使 has been used a lot in recent ranked League of Legends games. In the current meta, her popularity is 6.9%. Hardly anyone sees her as a threat. She has only been banned in approximately 2.5% of League games.
Because of 正义天使's K/D/A and utility, she has a fairly average overall win rate. She does best in the late game, with a winrate of NaN% in that phase. Unfortunately, she does poorest in the late game, where 正义天使's win rate is NaN%., The difference between her best and worst game phases is a large NaN%. This large difference shows us that her power spikes and wanes in different parts of the match. Prepare well.
You can see her typically laning in the top position. However, that is not the best position for her. The highest win rate position for 正义天使 is middle ([object Object]%). At this time, 正义天使's meta game is centered around dealing damage. Specifically, her build should primarily be centered around magical damage. Moreover, she is a pretty good physical damage dealer champ. Supporting others and crowd control are the least important part of 正义天使's kit.
If you are not familiar with her skills and tactics, you may find it difficult picking her up for the first time. Many players consider her to be a challenging champion to learn. 正义天使 mostly deals magic damage (67% of her total damage). She also deals a large amount of physical damage.
正义天使 deals a good amount of damage in a normal match (17,524 damage). You could focus on developing her as a damage dealing champ to crush your foes.
在符文战争最激烈的时刻,一位巨神星灵诞下了凯尔,她传承了母亲的荣耀,在圣火飞翼的承载下为了正义而战。她和孪生妹妹莫甘娜曾是德玛西亚的保护神——但凡人反反复复的失败最终让凯尔的幻想破灭,彻底抛弃了这个国度。但关于她用火焰长剑惩罚不义之徒的传说依然在流传,关于她终将回归的希望也依然在持续……
She is an average damage dealer in the game with 5.3 kills on average each game. That is one of the highest kill rates among all tops. Furthermore, she has a fairly typical average champion death rate (5.8 deaths). Moreover, 正义天使 has a low KDA ratio (1.9) with 5.8 assists.
We comb through millions of League of Legends matches pulled directly from Riot's servers each week and analyze the data using advanced algorithms to bring you the most accurate 正义天使 stats online. We analyze the data by tier, so you can find the most relevant 正义天使 win rate and other stats.