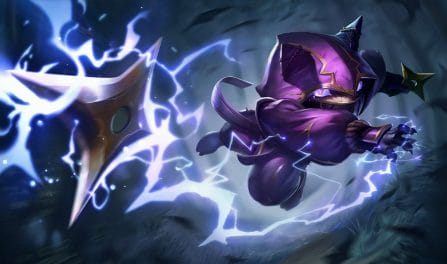 55,681 狂暴之心 Matches Analyzed
These champ stats were determined using 55,681 recently played, ranked 狂暴之心 games. We pull ranked match data directly from Riot's own database. Having a large number of League of Legends matches to analyze gives us a lot of confidence in our capability to give you precise 狂暴之心 stats. Across all games, 狂暴之心 didn't perform very well, with an average win rate of 49.6%.
In the current meta, 狂暴之心 is not very popular. He has been used in only 2.7% of recently ranked games. He is rarely banned during champ select. Obviously, very few players see him as a real threat. In the latest ranked games, 狂暴之心 was banned 0.5% of the time.
As a result of 狂暴之心's K/D/A and utility, he has a fairly average overall win rate. He does best in the late game, with a winrate of NaN% in that phase. Unfortunately, he does very poorly in the late game, where 狂暴之心's win rate is NaN%., The difference between his best and worst game phases is a large NaN%. This large difference makes it clear that his power spikes and wanes in different phases of the game. Prepare well.
You will find him typically laning in the top position. However, that is not the best position for him. The highest win rate position for 狂暴之心 is middle ([object Object]%). Currently, 狂暴之心's meta game is centered around dealing damage. In particular, his kit should mostly be focused on magical damage. Moreover, he is an ok physical damage dealer champion. Tanking is the least important part of 狂暴之心's gameplay.
If you are not familiar with his abilities and tactics, you will not find it difficult picking him up for the first time. Many competitors consider him to not be a difficult champ to learn. 狂暴之心 primarily deals magic damage (87% of his total damage). He doesn't deal much of other damage types and should not be considered a hybrid damage dealer..
狂暴之心 deals a decent amount of damage in a normal round (19,470 damage). You could focus on developing him as a powerful champ to destroy your opponents.
凯南不仅是捍卫艾欧尼亚均衡的迅猛如雷电的执法者,而且还是均衡教派中唯一的一名约德尔人。虽然他身体小巧,浑身绒毛,但他能用手里剑的风暴和无限的热情迎接任何敌人的威胁。他和自己的师父慎一起在精神领域巡逻,使用雷电的能量痛击敌人。
He is an average damage dealer on the Rift with 5.3 kills on average per match. That is one of the highest kill counts amongst all tops. Furthermore, he has a fairly typical average champion death rate (5.7 deaths). Additionally, 狂暴之心's KDA is usually low with an average KDA ratio of 2.0 as well as 6.3 assists per match.
We comb through millions of League of Legends matches pulled directly from Riot's servers each week and analyze the data using advanced algorithms to bring you the most accurate 狂暴之心 stats online. We analyze the data by tier, so you can find the most relevant 狂暴之心 win rate and other stats.