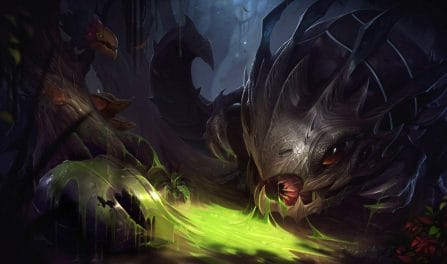 52,323 深渊巨口 Builds Analyzed
The best items to include in your Kog'Maw build are: Wyrmfallen Sacrifice, Runaan's Hurricane, Wit's End, and Randuin's Omen. Furthermore, similar to our rune setups, you can also get quality, focused, Kog'Maw item builds farther down for the specific enemy team comp you are facing in your current match. Players who added these pieces in their kits had a better win rate than players who worked towards other Kog'Maw builds.
深渊巨口

Items to Defeat Focused Team Comps

致命节奏

凯旋

传说:欢欣

致命一击

神奇之鞋

行近速率
If you are fighting a varied enemy team composition, you should really consider grabbing him the Lethal Tempo, Triumph, Legend: Alacrity, Coup de Grace, Magical Footwear, and Approach Velocity runes. In recent games, he won the largest percentage of his games when using these runes. However, if you are fighting a more homogenous enemy team composition, such as an AP focused or a crowd control focused team, you should instead scrollbrowse below to find the best Kog'Maw runes to win your particular match.
深渊巨口

Runes to Beat Dedicated Enemy Teams

强攻

凯旋

传说:欢欣

致命一击

血之滋味

贪欲猎手
We set our Kog'Maw build recommendations by analyzing 52,323 recently ranked League of Legends matches with him selected. We only advise the highest winrate Kog'Maw builds that were used by ranked LoL players enough times for us to propose them. With so many matches in our data, we are confident in our recommended builds.
Additionally, to view Kog'Maw builds tailored to a unique division, pick a different rank from the dropdown menu located above. In that case, the best Kog'Maw build given will be based on that tier's meta gameplay.