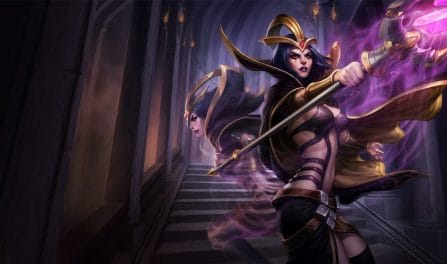 183,260 诡术妖姬 Matches Analyzed
These champion statistics were calculated using 183,260 recently played, ranked 诡术妖姬 matches. MOBA Champion downloads ranked game data directly from Riot's own database. Having so many LoL games to evaluate gives us a lot of confidence in our ability to provide precise 诡术妖姬 statistics. She didn't do a good job in recent rounds. She racked up a poor win rate of 48.5%.
In the current meta, 诡术妖姬 is very popular. She has been played in 5.9% of recently ranked matches. She is sometimes banned during champ select. Obviously, some players see her as a substantial threat. In the latest ranked games, 诡术妖姬 was banned 5.9% of the time.
Thanks to 诡术妖姬's K/D/A and utility, she has a somewhat poor overall win rate. She does very well in the late game, with a winrate of NaN% in that phase. Unfortunately, she does very poorly in the late game, where 诡术妖姬's winrate is NaN%., The difference between her best and worst game phases is a large NaN%. This sizeable difference indicates that her power spikes and wanes in different parts of the game. Plan accordingly.
You can find her most often laning in the middle position. The top win rate position for 诡术妖姬 is middle ([object Object]%). Currently, 诡术妖姬's meta game is centered around dealing damage. In particular, her gameplay should mostly be centered around magical damage. Dealing physical damage is the least significant part of 诡术妖姬's kit.
If you are not used to her skills and gameplay, you probably will find it difficult picking her up for the first time. Most competitors believe her to be a challenging champ to master. 诡术妖姬 mostly causes magic damage (88% of her total damage). She doesn't deal much of other damage types and should not be considered a hybrid damage dealer..
诡术妖姬 deals a good amount of damage over the course of a typical match (18,514 damage). You may want to focus on developing her as a powerful champion to smash your opponents.
即使是在秘密团体黑色玫瑰的成员内部,乐芙兰也同样保持神秘,而乐芙兰这个名字也只是众多化名之一。这个皮肤惨白的女人自从诺克萨斯建国初期就开始操纵大小人物,推动事态发展。这位女法师能用魔法制造自己的镜像,她可以出现在任何地点、任何人面前、甚至同时现身于许多地方。乐芙兰永远都在暗处密谋策划,而她真正的动机和她变换不定的身份一样令人难以捉摸。
She is a powerful damage dealer on the Rift with 7.4 kills on average each game. That is one of the highest kill counts among all middles. 'Moreover, she has a somewhat typical death total with an average of 5.1 deaths per League of Legends match. Additionally, 诡术妖姬's KDA is typically very high with an average KDA ratio of 2.7 as well as 6.5 assists per match.
We comb through millions of League of Legends matches pulled directly from Riot's servers each week and analyze the data using advanced algorithms to bring you the most accurate 诡术妖姬 stats online. We analyze the data by tier, so you can find the most relevant 诡术妖姬 win rate and other stats.