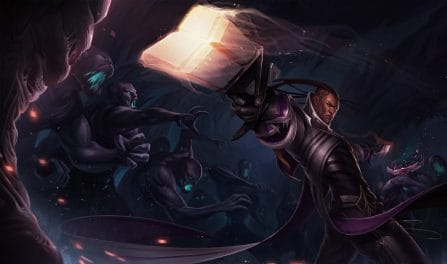 213,218 圣枪游侠 Matches Analyzed
To prepare these 圣枪游侠 statistics, we analyzed 213,218 recent ranked League of Legends matches with him chosen. We pull competitive match results directly from Riot's servers. This gives us great confidence in our 圣枪游侠 statistics. He did not do a good job in recent games. He has a poor win rate of 47.6%.
圣枪游侠 has been picked a lot in recent ranked League matches. In the current meta, his popularity is 9.6%. He is rarely banned during champ select. Obviously, very few players see him as a substantial threat. In the latest ranked rounds, 圣枪游侠 was banned 1.9% of the time.
Because of 圣枪游侠's K/D/A and utility, he has a somewhat poor overall win rate. He does best in the late game, with a winrate of NaN% in that phase. Unfortunately, he does poorest in the late game, where 圣枪游侠's win rate is NaN%., The difference between his best and worst game phases is a large NaN%. This sizeable difference shows us that his power spikes and fades in different phases of the round. Prepare accordingly.
You can see him typically played in the bottom position. The best win rate position for 圣枪游侠 is bottom ([object Object]%). Currently, 圣枪游侠's meta game is centered around dealing damage. Specifically, his gameplay should primarily be centered around physical damage. Moreover, he is a pretty good tank champion. Dealing magical damage is the least important part of 圣枪游侠's gameplay.
If you are not familiar with his skills and tactics, you may find it difficult trying him out for the first time. Most players consider him to not be a difficult champion to pick up. 圣枪游侠 primarily deals physical damage (87% of his total damage). He doesn't deal much of other damage types and should not be played as hybrid damage dealer..
圣枪游侠 deals a good amount of damage in a normal round (18,020 damage). You could focus on developing him as a damage dealing champ to smash your opponents.
卢锡安,一名光明哨兵,一个狩猎不死亡灵的残酷猎手,使用一双圣物手枪进行无情的追踪与杀灭。当怨灵锤石夺走他妻子的生命后,卢锡安踏上了复仇之路。但即便她已重获新生,他的怒火也没有平息。无情而又固执的卢锡安将不惜一切代价,保护生者,对抗黑雾中那亡故已久的恐怖。
He is a powerful damage dealer on the Rift with 7.3 kills on average each round. That is one of the highest kill rates among all bottoms. 'Moreover, he has a somewhat above average death total with an average of 6.1 deaths per League match. Moreover, 圣枪游侠 has an average KDA ratio (2.3) with 6.6 assists.
We comb through millions of League of Legends matches pulled directly from Riot's servers each week and analyze the data using advanced algorithms to bring you the most accurate 圣枪游侠 stats online. We analyze the data by tier, so you can find the most relevant 圣枪游侠 win rate and other stats.