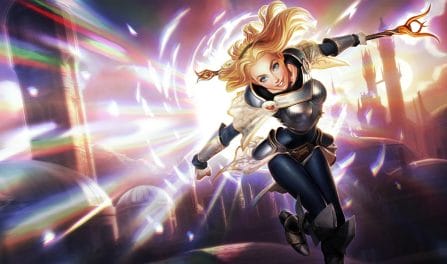 428,111 光辉女郎 Matches Analyzed
These champion statistics were computed using 428,111 recently played, ranked 光辉女郎 matches. MOBA Champion pulls ranked match summaries directly from Riot's own database. Having a large number of League games to analyze gives us a lot of confidence in our capability to provide accurate 光辉女郎 statistics. Across all games, she did perform very well, with an average win rate of 50.4%.
In the current meta, 光辉女郎 is incredibly popular. She has been selected in 18.9% of recently ranked rounds. She is often banned during champion select. Obviously, many players see her as a huge threat. In recent ranked rounds, 光辉女郎 was banned 8.7% of the time.
As a result of 光辉女郎's K/D/A and utility, she has a fairly average overall win rate. She does very well in the late game, with a winrate of NaN% in that phase. Unfortunately, she does very poorly in the late game, where 光辉女郎's winrate is NaN%., The difference between her best and worst game phases is a large NaN%. This large difference makes it clear that her power spikes and wanes in different phases of the game. Prepare well.
You will see her most often used in the support position. However, that is not the best position for her. The best win rate position for 光辉女郎 is middle ([object Object]%). Currently, 光辉女郎's meta game is focused on dealing damage. In particular, her kit should mainly be centered around magical damage. Furthermore, she is a decent support champ. Dealing physical damage is the least significant part of 光辉女郎's playstyle.
You should anticipate having to dedicate a decent amount of time practicing and learning to pick up 光辉女郎. Most League players believe she is an average difficulty champ to use. 光辉女郎 primarily deals magic damage (92% of her total damage). She doesn't deal a lot of other damage types and should not be considered a hybrid damage dealer..
光辉女郎 deals a good amount of damage during a typical match (17,882 damage). You could focus on developing her as a powerful champion to destroy your opponents.
拉克珊娜·冕卫出身自德玛西亚,一个将魔法视为禁忌的封闭国度。只要一提起魔法,人们总是带着恐惧和怀疑。所以拥有折光之力的她,在童年的成长过程中始终担心被人发现进而遭到放逐,一直强迫自己隐瞒力量,以此保住家族的贵族地位。虽然如此,拉克丝的乐观和顽强让她学会拥抱自己独特的天赋,现在的她正在秘密地运用自己的能力为祖国效力。
She is an average damage dealer on the Rift with 4.5 kills on average each round. That is one of the lowest kill counts among all supports. 'Moreover, she has a somewhat above average death rate with an average of 6.2 deaths per LoL game. Moreover, 光辉女郎's KDA is usually high with an average KDA ratio of 2.5 as well as 11 assists per game.
We comb through millions of League of Legends matches pulled directly from Riot's servers each week and analyze the data using advanced algorithms to bring you the most accurate 光辉女郎 stats online. We analyze the data by tier, so you can find the most relevant 光辉女郎 win rate and other stats.