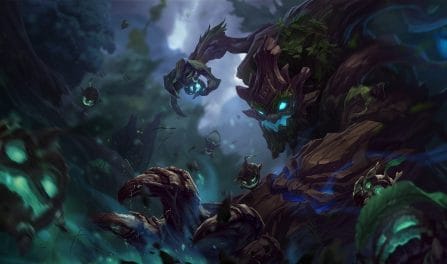 76,568 扭曲树精 Matches Analyzed
To generate these 扭曲树精 stats, we analyzed 76,568 recent ranked League games with him chosen. MOBA Champion downloads competitive game summaries directly from Riot's servers. This gives us great confidence in our 扭曲树精 statistics. He did do a great job in recent matches. He has a decent win rate of 51.3%.
扭曲树精 has been picked only occasionally in the latest ranked LoL matches. In the current meta, his popularity is 3%. Hardly anyone sees him as a threat. He has only been banned in approximately 0.4% of League games.
Because of 扭曲树精's K/D/A and utility, he has a pretty good overall win rate. He does very well in the late game, with a winrate of NaN% in that phase. Unfortunately, he does terribly in the late game, where 扭曲树精's winrate is NaN%., The difference between his best and worst game phases is a large NaN%. This sizeable difference indicates that his power spikes and wanes in different phases of the game. Plan well.
扭曲树精 is played mostly in the support position. This occurs in [object Object]% of his games. Support 扭曲树精 also has the highest win rate ([object Object]%) of all positions. At this time, 扭曲树精's meta game is focused on utility and support. Specifically, his build should mostly be focused on supporting others. Additionally, he is a pretty good magical damage dealer champion. Dealing physical damage is the least significant part of 扭曲树精's kit.
You should expect to have to to spend only a little bit of time practicing and learning to get good at playing 扭曲树精. Most LoL gamers believe he is an easy champion to get good at. 扭曲树精 mostly does magic damage (86% of his total damage). He doesn't deal a lot of other damage types and should not be played as hybrid damage dealer..
扭曲树精 deals a decent amount of damage in a typical match (14,218 damage). You may want to focus on developing him as a damage dealing champion to smash your opponents.
茂凯是一只内心暴怒外形魁梧的树精,不知疲倦地对抗暗影岛的骇人异象。一场魔法灾变摧毁了他的家园,同时也将他变成一股复仇的力量,使他免遭不死诅咒的,全靠他芯中灌注融合的生命之水。曾经的茂凯是一只平和的自然之灵,而现在的他则一直在暴怒地战斗,只为了将不死的灾祸逐出暗影岛,让他的家园重归往日的秀美。
He is a weak damage dealer on the Rift with 2.7 kills on average each round. That is one of the lowest kill rates amongst all supports. Additionally, he has a relatively high average champion death rate (6.3 deaths). Furthermore, 扭曲树精 has an average KDA ratio (2.3) with 11.7 assists.
We comb through millions of League of Legends matches pulled directly from Riot's servers each week and analyze the data using advanced algorithms to bring you the most accurate 扭曲树精 stats online. We analyze the data by tier, so you can find the most relevant 扭曲树精 win rate and other stats.