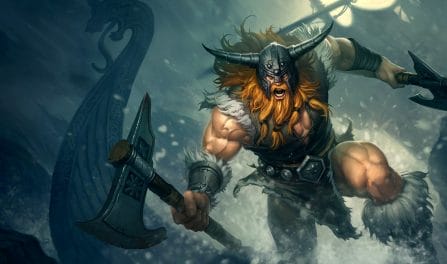 71,210 狂战士 Matches Analyzed
These champ stats were calculated using 71,210 recently played, ranked 狂战士 games. MOBA Champion pulls competitive match results directly from Riot's own database. Having so many League of Legends rounds to analyze gives us a lot of confidence in our ability to provide precise 狂战士 stats. He didn't do a great job in recent matches. He has a poor win rate of 48.6%.
狂战士 has been picked only occasionally in recent ranked League of Legends games. In the current meta, his popularity is 2.6%. Hardly anyone sees him as a danger. He has only been banned in approximately 1.8% of League of Legends rounds.
Because of 狂战士's K/D/A and utility, he has a somewhat poor overall win rate. He does best in the late game, with a winrate of NaN% in that phase. Unfortunately, he does poorest in the late game, where 狂战士's win rate is NaN%., The difference between his best and worst game phases is a large NaN%. This large difference indicates that his power spikes and fades in different phases of the round. Prepare well.
You will see him most often used in the jungle position. The highest win rate position for 狂战士 is jungle ([object Object]%). Currently, 狂战士's meta game is focused on dealing damage. Specifically, his build should mostly be focused on physical damage. Furthermore, he is an ok tank champ. Dealing magical damage is the least significant part of 狂战士's playstyle.
You should anticipate having to dedicate only a little bit of time practicing and learning to master 狂战士. Many League players consider he is one of the most basic champion to master. 狂战士 primarily causes physical damage (70% of his total damage). He doesn't deal much of other damage types and should not be played as hybrid damage dealer..
狂战士 deals a good amount of damage in a regular ranked match (17,246 damage). You may want to focus on building him as a damage dealing champion to smash your foes.
奥拉夫是一股无坚不摧的毁灭之力,战斧在手的他别无所求,只想光荣地死在战斗中。奥拉夫来自弗雷尔卓德的海岸半岛洛克法,他曾在一次占卜预言中听闻自己将安详地死去——这是懦夫的命运,也是对他们族人的莫大侮辱。于是,为了追寻另外一种结局,他在狂怒的驱动下在这片土地上暴跳横行,屠杀了数十名伟大的战士和传说中的野兽,希望能够找到能够阻止自己的对手。如今他是凛冬之爪部族残酷的执法者,希望在即将到来的大战中找到自己的终结。
He is a powerful damage dealer on the Rift with 6.9 kills on average per match. That is one of the highest kill rates among all jungles. 'Moreover, he has a somewhat above average death total with an average of 6.1 deaths per League of Legends match. Furthermore, 狂战士 has an average KDA ratio (2.3) with 7.1 assists.
We comb through millions of League of Legends matches pulled directly from Riot's servers each week and analyze the data using advanced algorithms to bring you the most accurate 狂战士 stats online. We analyze the data by tier, so you can find the most relevant 狂战士 win rate and other stats.