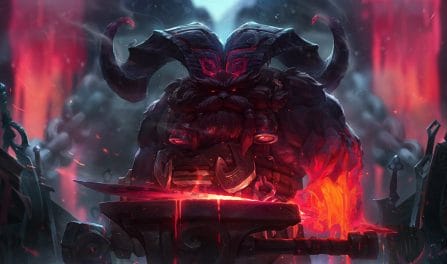 32,301 山隐之焰 Builds Analyzed
Our 山隐之焰 builds result from our examination of 32,301 recently ranked 山隐之焰 rounds. Only the top win rate 山隐之焰 builds that are also commonly used are advised by us. Because we have so many rounds in our dataset, we are confident that we can provide high quality builds for 山 to help ensure you win your next game!
Additionally, to view the top 山隐之焰 build from a different skill level, please select a different skill tier from the dropdown menu above. The proposed champion builds will update to reflect that division's meta.
The most essential items to use in your champ's build include: 日炎圣盾,荆棘之甲, and 狂徒铠甲. Those who added these items in their builds had a higher winrate than those who worked towards other 山隐之焰 builds.
Yet, like our rune setups, you can also find quality, dedicated, 山隐之焰 item builds a little further down for the particular enemy team setup you are playing in your current game.
山隐之焰

Items to Defeat Focused Team Comps

不灭之握

爆破

复苏之风

过度生长

神奇之鞋

饼干配送
If you are playing a varied enemy team composition, you should really consider grabbing 山隐之焰 the 坚决, and 启迪 runes. In recent matches, he won the largest fraction of his rounds when using these runes.
However, if you are trying to beat a more homogenous enemy team composition, such as an AP centric or a crowd control focused team, you should instead look further down to use the best 山隐之焰 runes to defeat your particular enemy team.
山隐之焰

Runes to Beat Dedicated Enemy Teams

不灭之握

爆破

调节

过度生长

神奇之鞋

饼干配送