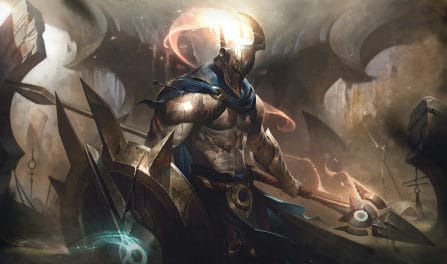 84,169 不屈之枪 Builds Analyzed
We established our 不屈之枪 build guidance by examining 84,169 recently ranked League of Legends rounds with him in them. We only advise the top winrate 不屈之枪 builds that were built by ranked gamers enough times for us to advise them. With so many matches in our data, we are quite confident in our provided builds.
Additionally, to get 不屈之枪 builds tailored to a unique division, choose your desired division from the dropdown menu located above. If you change the selection, the ideal 不屈之枪 build given will reflect that tier's meta.
The best items to include in your champion's build include: 星蚀,斯特拉克的挑战护手, and 死亡之舞. Those who added these pieces in their gear had a greater winrate than those who went for other item builds for 不屈之枪.
Additionally, similar to our rune suggestions, you can also find great, dedicated, 不屈之枪 item builds just below for the particular enemy team setup you are facing in your ongoing match.
不屈之枪

Items to Defeat Focused Team Comps

征服者

凯旋

传说:欢欣

坚毅不倒

饼干配送

时间扭曲补药
If you are trying to beat a well-mixed enemy team composition, you should really consider grabbing yourself the 精密, and 启迪 runes. In recent matches, he won the greatest number of his games when built with these runes.
Yet, if you are fighting a singular enemy team comp, such as an AP focused or a crowd control focused team, you should instead scroll a little down to see the best 不屈之枪 runes to win your particular round.
不屈之枪

Runes to Beat Dedicated Enemy Teams

征服者

凯旋

传说:欢欣

致命一击

血之滋味

贪欲猎手