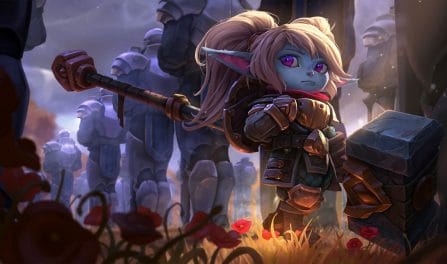 54,779 圣锤之毅 Builds Analyzed
We calculated our 圣锤之毅 build guidance by examining 54,779 recently ranked LoL rounds with her selected. We only recommend the best winrate 圣锤之毅 builds that have been built by ranked gamers enough times for us to suggest them. With so many rounds in our dataset, we are quite confident in our suggested builds.
Additionally, 圣锤之毅 builds dedicated to a unique skill rank can be viewed by selecting another division from the dropdown menu found above. The suggested 圣锤之毅 build shown will be specific to that tier's meta.
The most essential items to incorporate into your champion's build include: 神圣分离者,深渊面具, and 亡者的板甲. Those who included these pieces in their gear had a higher win rate than those who tried for other item builds for 圣锤之毅.
Yet, as with our rune advice, you can also find quality, focused, 圣锤之毅 item builds just below for the specific enemy team composition you are battling in your ongoing match.
圣锤之毅

Items to Defeat Focused Team Comps

电刑

恶意中伤

眼球收集器

无情猎手

迅捷

水上行走
If you are trying to beat a varied enemy team comp, you should really consider grabbing her the 主宰, and 巫术 runes. In recent matches, she won the largest fraction of her rounds when built with these runes.
Although, if you are fighting a different enemy team comp, such as an AP focused or a crowd control centric team, you should instead look below to get the best 圣锤之毅 runes to defeat your particular set of opponents.
圣锤之毅

Runes to Beat Dedicated Enemy Teams

电刑

猛然冲击

眼球收集器

无情猎手

迅捷

水上行走