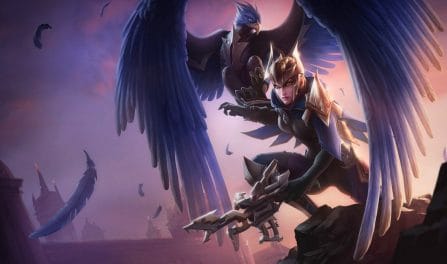 39,396 德玛西亚之翼 Builds Analyzed
The most essential items to include in your Quinn build include: Immortal Shieldbow, Infinity Edge, Runaan's Hurricane, and The Collector. Additionally, similar to our rune builds, you can also find great, focused, Quinn item builds below for the specific enemy team composition you are playing in your ongoing game. Players who added these pieces in their builds had a greater win rate than players who tried for other Quinn builds.
德玛西亚之翼

Items to Defeat Focused Team Comps

迅捷步法

凯旋

传说:欢欣

砍倒

血之滋味

贪欲猎手
If you are playing a well-mixed enemy team composition, you should strongly consider getting yourself the Fleet Footwork, Triumph, Legend: Alacrity, Cut Down, Taste of Blood, and Ravenous Hunter runes. In recent matches, she won the largest percentage of her rounds when using these runes. Yet, if you are facing a more single focused enemy team composition, such as an AD heavy or a CC heavy team, you should instead look a little below to view the best Quinn runes to win your particular round.
德玛西亚之翼

Runes to Beat Dedicated Enemy Teams

强攻

凯旋

传说:血统

致命一击

星界洞悉

饼干配送
We calculated our Quinn build recommendations by analyzing 39,396 recently ranked League matches with her selected. We only propose the best winrate Quinn builds that were used by ranked players enough times for us to reccomend them. With so many games in our dataset, we are confident in our suggested builds.
Additionally, to view the top Quinn build from a different skill level, please choose a different one from the dropdown menu above. The calculated Quinn builds will change to reflect that skill level's meta.