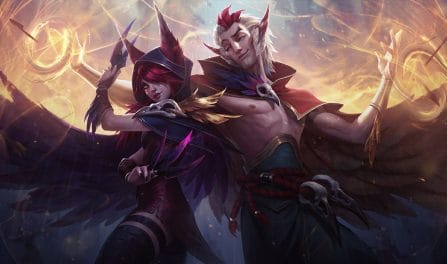 98,921 幻翎 Builds Analyzed
We calculated our 幻翎 build recommendations by examining 98,921 recently ranked LoL rounds with him in them. We only advise the best winrate 幻翎 builds that were used by ranked League players enough times for us to suggest them. With so many matches in our dataset, we are very confident in our recommended builds.
Additionally, 幻翎 builds dedicated to a particular skill tier can be seen by choosing another division from the dropdown menu located above. The recommended 幻翎 build shown will be specific to that division's meta.
The most important items to include in your champion's build are: 舒瑞娅的战歌,炽热香炉, and 山脉壁垒. Players who included these items in their gear had a better winrate than those who worked towards other builds for 幻翎.
Furthermore, like our rune setups, you can also get great, focused, 幻翎 item builds a little further down for the particular enemy team setup you are battling in your ongoing game.
幻翎

Items to Defeat Focused Team Comps

守护者

生命源泉

骸骨镀层

坚定

灵光披风

迅捷
If you are facing a mixed enemy team comp, you should really consider grabbing yourself the 坚决, and 巫术 runes. In recent games, he won the largest percentage of his rounds when built with these runes.
Although, if you are facing a more single focused enemy team comp, such as an AD centric or a crowd control heavy team, you should instead scroll a little below to view the best 幻翎 runes to win your particular game.
幻翎

Runes to Beat Dedicated Enemy Teams

守护者

生命源泉

骸骨镀层

复苏

僵尸守卫

无情猎手