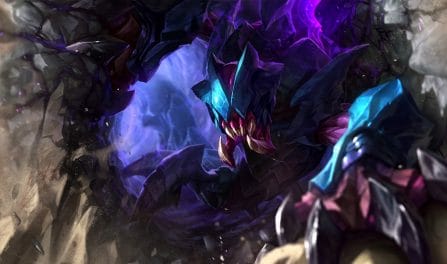 51,448 虚空遁地兽 Matches Analyzed
These champ statistics were computed using 51,448 recently played, ranked 虚空遁地兽 games. We pull competitive match results directly from Riot's own database. Having so many League games to evaluate gives us a lot of confidence in our ability to give you accurate 虚空遁地兽 statistics. Across all rounds, he did perform very well, with an average win rate of 50.1%.
虚空遁地兽 has been picked very little in the latest ranked League rounds. In the current meta, his popularity is 1.7%. He is rarely banned during champ select. Obviously, very few players see him as a real threat. In recent ranked games, 虚空遁地兽 was banned 0.6% of the time.
Because of 虚空遁地兽's K/D/A and utility, he has a fairly average overall win rate. He does best in the late game, with a winrate of NaN% in that phase. Unfortunately, he does very poorly in the late game, where 虚空遁地兽's win rate is NaN%., The difference between his best and worst game phases is a large NaN%. This large difference indicates that his power spikes and wanes in different parts of the game. Prepare well.
You can see him typically used in the jungle position. The best win rate position for 虚空遁地兽 is jungle ([object Object]%). Currently, 虚空遁地兽's meta game is focused on dealing damage. In particular, his gameplay should mainly be focused on physical damage. Moreover, he is an ok tank champ. Dealing magical damage is the least significant part of 虚空遁地兽's build.
If you are not familiar with his abilities and tactics, you will not find it difficult picking him up for the first time. Most competitors believe him to not be a challenging champion to get good at. 虚空遁地兽 primarily deals physical damage (80% of his total damage). He doesn't deal a lot of other damage types and should not be played as hybrid damage dealer..
虚空遁地兽 deals a good amount of damage during a typical match (15,857 damage). You could focus on building him as a powerful champ to defeat your opponents.
作为食物链顶端的掠食者,残忍无情的虚空生物,雷克赛能够在地下挖掘隧道,偷袭并吞食毫无防备的猎物。她那永不满足的饥渴让曾经鼎盛一时的恕瑞玛帝国所在的地区满目疮痍。商人、贸易者和武装商队都会绕行百里,来躲开这些广袤的地区。一旦有人在遥远的地平线看到雷克赛,就等于看到自己葬身沙砾之下的命运。
If you are looking for a dominating damage dealer, then you should definitely consider this champ. He has one of the absolute best kill totals on the Rift amongst other champs. Additionally, he has a fairly high average champion death rate (6.2 deaths). Additionally, 虚空遁地兽's KDA is usually high with an average KDA ratio of 2.4 as well as 7.1 assists per match.
We comb through millions of League of Legends matches pulled directly from Riot's servers each week and analyze the data using advanced algorithms to bring you the most accurate 虚空遁地兽 stats online. We analyze the data by tier, so you can find the most relevant 虚空遁地兽 win rate and other stats.