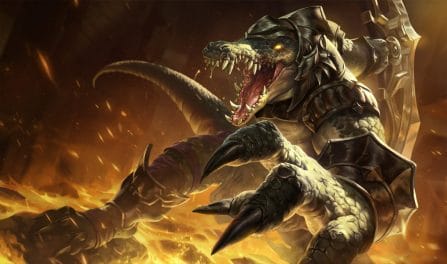 115,362 荒漠屠夫 Matches Analyzed
To prepare these 荒漠屠夫 statistics, we analyzed 115,362 recent competitive League of Legends matches with him chosen. MOBA Champion downloads competitive game stats directly from Riot's servers. This allows us to be very confident in our 荒漠屠夫 stats. Across all games, he didn't do very well, with a below average win rate of 46.7%.
In the current meta, 荒漠屠夫 is somewhat popular. He has been played in 4.1% of recently ranked rounds. He is rarely banned during champ select. Obviously, very few players see him as a major threat. In the latest ranked matches, 荒漠屠夫 was banned 2.4% of the time.
Thanks to 荒漠屠夫's K/D/A and utility, he has a terrible overall win rate. He does best in the late game, with a winrate of NaN% in that phase. Unfortunately, he does worst in the late game, where 荒漠屠夫's win rate is NaN%., The difference between his best and worst game phases is a large NaN%. This sizeable difference indicates that his power spikes and wanes in different phases of the game. Plan well.
荒漠屠夫 is most commonly played in the top position. This occurs in [object Object]% of his games. Yet, top 荒漠屠夫 has the highest win rate ([object Object]%) of all positions but is less popular of a position (played [object Object]% of the time). At this time, 荒漠屠夫's meta game is centered around dealing damage. Specifically, his build should mainly be centered around physical damage. Moreover, he is an ok tank champ. Dealing magical damage is the least significant part of 荒漠屠夫's gameplay.
You should anticipate having to dedicate only a little bit of time practicing and learning to get good at playing 荒漠屠夫. Many League players believe he is a simple champion to master. 荒漠屠夫 primarily deals physical damage (87% of his total damage). He doesn't deal much of other damage types and should not be played as hybrid damage dealer..
荒漠屠夫 deals a good amount of damage in a typical game (16,408 damage). You could focus on developing him as a powerful champion to smash your enemies.
雷克顿是一位来自恕瑞玛炙热沙漠中的面目可怖、野蛮狂怒的飞升者。他曾经是帝国最受尊敬的战士,带领恕瑞玛的军队取得过无数次胜利。然而,在帝国陨落以后,雷克顿被困在了沙漠之下,慢慢地,在世界变迁的同时,雷克顿丧失了理智。现在他重获自由,但却被一个执念吞噬:找到并杀死他的哥哥内瑟斯,因为疯狂之中的他坚信内瑟斯是害他经受数百年黑暗束缚的罪魁祸首。
If you are looking for a dominating damage dealer, then you should maybe consider this champion. He has one of the top kill rates in League among all champions. 'Moreover, he has a fairly typical death rate with an average of 5.9 deaths per League of Legends game. Moreover, 荒漠屠夫's KDA is usually low with an average KDA ratio of 1.8 as well as 5.6 assists per game.
We comb through millions of League of Legends matches pulled directly from Riot's servers each week and analyze the data using advanced algorithms to bring you the most accurate 荒漠屠夫 stats online. We analyze the data by tier, so you can find the most relevant 荒漠屠夫 win rate and other stats.