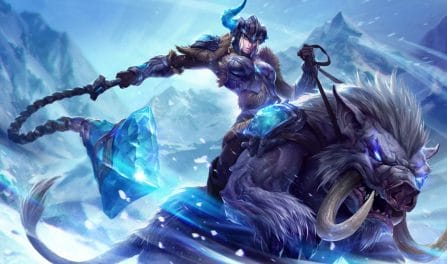 33,515 北地之怒 Builds Analyzed
The most essential items to use in your Sejuani build include: Sunfire Aegis, Warmog's Armor, Frozen Heart, and Anathema's Chains. Moreover, like our rune builds, you can also get quality, focused, Sejuani item builds farther down for the specific enemy team composition you are fighting in your ongoing game. Players who included these pieces in their kits had a better winrate than players who worked towards other Sejuani builds.
北地之怒

Items to Defeat Focused Team Comps

不灭之握

生命源泉

复苏之风

过度生长

血之滋味

无情猎手
If you are facing a well-mixed enemy team comp, you should strongly consider getting her the Grasp of the Undying, Font of Life, Second Wind, Overgrowth, Taste of Blood, and Relentless Hunter runes. In recent matches, she won the greatest fraction of her rounds when built with these runes. Yet, if you are battling a different enemy team comp, such as an AD focused or a crowd control heavy team, you should instead scrollbrowse a little down to use the best Sejuani runes to win your particular game.
北地之怒

Runes to Beat Dedicated Enemy Teams

丛刃

恶意中伤

眼球收集器

终极猎人

灵光披风

超然
Our Sejuani builds come out of our analysis of 33,515 recently ranked Sejuani games. Only the best win rate Sejuani builds that are also in common use are advised by us. Because we have so many games in our database, we are very sure that we can generate the highest quality builds for Sejuani to help ensure you win your next game!
Additionally, to view the best Sejuani build for a different skill level, please select a different one from the dropdown menu above. The recommended Sejuani builds will change to characterize that skill level's meta.