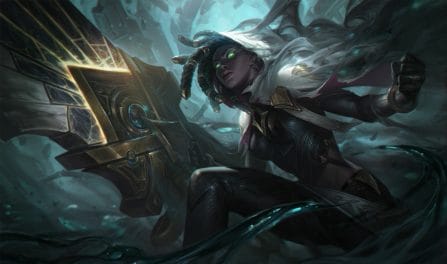 160,725 涤魂圣枪 Builds Analyzed
The most essential items to include in your Senna build are: Divine Sunderer, Infinity Edge, Mortal Reminder, and Lord Dominik's Regards. Yet, as with our rune setups, you can also find quality, focused, Senna item builds below for the specific enemy team comp you are facing in your ongoing game. Those who included these items in their setups had a much higher win rate than those who used other Senna builds.
涤魂圣枪

Items to Defeat Focused Team Comps

黑暗收割

血之滋味

眼球收集器

终极猎人

法力流系带

超然
If you are fighting a mixed enemy team comp, you should really consider grabbing yourself the Dark Harvest, Taste of Blood, Eyeball Collection, Ultimate Hunter, Manaflow Band, and Transcendence runes. In recent matches, she won the greatest fraction of her matches when using these runes. Yet, if you are playing a different enemy team composition, such as an AP heavy or a tank heavy team, you should instead look a little down to use the best Senna runes to win your particular game.
涤魂圣枪

Runes to Beat Dedicated Enemy Teams

冰川增幅

神奇之鞋

饼干配送

行近速率

传说:血统

致命一击
We came up with our Senna build recommendations by analyzing 160,725 recently ranked League of Legends rounds with her selected. We only recommend the highest winrate Senna builds that have been built by ranked players enough times for us to propose them. With so many rounds in our dataset, we are confident in our suggested builds.
Additionally, to see Senna builds tailored to a unique division, choose a different rank from the dropdown menu found above. In that case, the ideal Senna build given will capture that tier's meta gameplay.