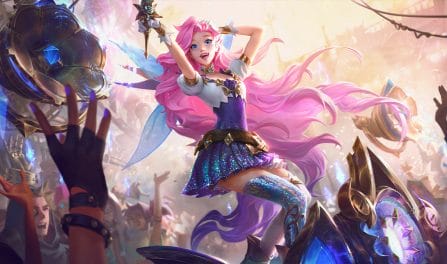 174,707 星籁歌姬 Matches Analyzed
These champ statistics were computed using 174,707 recently played, ranked 星籁歌姬 games. MOBA Champion downloads competitive match summaries directly from Riot's own database. Having a large number of League of Legends games to evaluate gives us great confidence in our capability to provide accurate 星籁歌姬 stats. Across all rounds, 星籁歌姬 didn't do very well, with an average win rate of 49.2%.
星籁歌姬 has been used a lot in the latest ranked League of Legends rounds. In the current meta, her popularity is 6.8%. She is rarely banned during champion select. Obviously, very few players see her as a huge threat. In the latest ranked games, 星籁歌姬 was banned 2.9% of the time.
Thanks to 星籁歌姬's K/D/A and utility, she has a fairly average overall win rate. She does very well in the late game, with a winrate of NaN% in that phase. Unfortunately, she does terribly in the late game, where 星籁歌姬's win rate is NaN%., The difference between her best and worst game phases is a large NaN%. This sizeable difference makes it clear that her power spikes and wanes in different phases of the game. Plan well.
You will find her most often played in the support position. However, that is not the best position for her. The highest win rate position for 星籁歌姬 is bottom ([object Object]%). At this time, 星籁歌姬's meta game is focused on utility and support. In particular, her kit should mostly be centered around team fights. Dealing physical damage is the least important part of 星籁歌姬's gameplay.
If you are not familiar with her skills and tactics, you will not find it difficult trying her out for the first time. Many players believe her to not be a tough champion to learn. 星籁歌姬 primarily deals magic damage (86% of her total damage). She doesn't deal much of other damage types and should not be played as hybrid damage dealer..
星籁歌姬 deals a decent amount of damage over the course of a typical round (12,103 damage). You may want to focus on building her as a powerful champ to defeat your enemies.
萨勒芬妮生在皮城,但父母都是祖安人。她能听到其他人的灵魂——整个世界都在对她唱歌,而她也回以自己的歌声。虽然她小的时候曾被这些声音压得不堪重负,但如今她从这些声音中汲取灵感,将混乱变为协奏。她为这对姊妹城市演唱,提醒这里的人们,他们并不孤单,他们凝聚起来会更强大,在她眼中,他们的潜力是无限的。
She is a weak damage dealer in the game with 2.8 kills on average per match. That is one of the lowest kill counts among all supports. Furthermore, she has a relatively typical average champion death rate (5.9 deaths). Furthermore, 星籁歌姬 has a high KDA ratio (2.6) with 12.3 assists.
We comb through millions of League of Legends matches pulled directly from Riot's servers each week and analyze the data using advanced algorithms to bring you the most accurate 星籁歌姬 stats online. We analyze the data by tier, so you can find the most relevant 星籁歌姬 win rate and other stats.