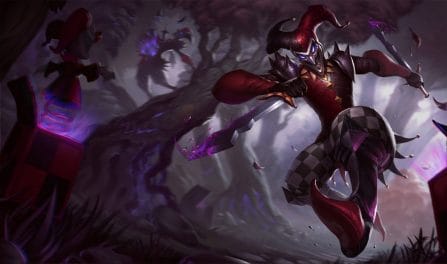 218,276 恶魔小丑 Matches Analyzed
To prepare these 恶魔小丑 statistics, we analyzed 218,276 recent competitive LoL games with him chosen. MOBA Champion downloads competitive game records directly from Riot's servers. This gives us great confidence in our 恶魔小丑 statistics. Across all rounds, he did do very well, with an average win rate of 50.7%.
恶魔小丑 has been picked a lot in the latest ranked LoL matches. In the current meta, his popularity is 8.5%. He is very often banned during champion select. Obviously, most players see him as a major threat. In recent ranked games, 恶魔小丑 was banned 24.7% of the time.
Because of 恶魔小丑's K/D/A and utility, he has a fairly average overall win rate. He does very well in the late game, with a winrate of NaN% in that phase. Unfortunately, he does terribly in the late game, where 恶魔小丑's winrate is NaN%., The difference between his best and worst game phases is a large NaN%. This large difference makes it clear that his power spikes and wanes in different phases of the match. Prepare accordingly.
恶魔小丑 is played mostly in the jungle position. This happens in [object Object]% of his games. Yet, jungle 恶魔小丑 has the highest win rate ([object Object]%) of all positions but is less popular of a position (played [object Object]% of the time). Currently, 恶魔小丑's meta game is centered around dealing damage. In particular, his build should primarily be centered around physical damage. Moreover, he is a decent magical damage dealer champion. Supporting others and crowd control are the least significant part of 恶魔小丑's gameplay.
If you are not used to his abilities and tactics, you probably will find it difficult trying him out for the first time. Many players consider him to be a difficult champion to learn. 恶魔小丑 mostly deals magic damage (53% of his total damage). He also deals a large amount of physical damage.
恶魔小丑 deals a decent amount of damage during a normal match (17,017 damage). You could focus on developing him as a damage dealing champion to defeat your enemies.
很久以前有人为一个孤独的小王子制作了一个玩物,一只附有魔法的提线人偶,它就是如今那个以杀人和破坏取乐的萨科。由于黑魔法的腐化,再加上痛失爱主,曾经友善的人偶如今只能在折磨灵魂制造苦痛的时候才能感到愉悦。小孩子的玩具和简单的戏法在他手中都有了致命的效果。而且,他觉得自己的血腥"游戏"滑稽至极——如果有谁在死寂的夜里听到了阴森的窃笑,或许那就是恶魔小丑看中了他们,作为自己新的玩物。
If you are looking for a dominating damage dealer, then you should definitely consider this champion. He has one of the absolute best kill counts in the game amongst other champions. 'Moreover, he has a somewhat typical death total with an average of 5.9 deaths per League of Legends round. Moreover, 恶魔小丑 has a high KDA ratio (2.7) with 7.8 assists.
We comb through millions of League of Legends matches pulled directly from Riot's servers each week and analyze the data using advanced algorithms to bring you the most accurate 恶魔小丑 stats online. We analyze the data by tier, so you can find the most relevant 恶魔小丑 win rate and other stats.