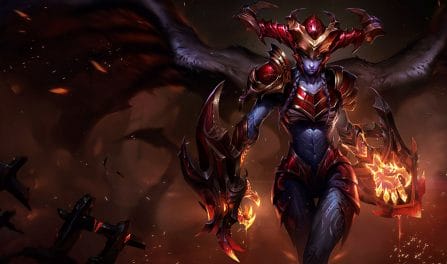 89,056 龙血武姬 Matches Analyzed
To prepare these 龙血武姬 statistics, we reviewed 89,056 recent competitive League of Legends rounds with her chosen. MOBA Champion downloads ranked game records directly from Riot's servers. This gives us great confidence in our 龙血武姬 statistics. Across all matches, 龙血武姬 did perform very well, with an average win rate of 50.7%.
龙血武姬 has been picked only occasionally in the latest ranked League games. In the current meta, her popularity is 3.2%. Hardly anyone sees her as a threat. She has only been banned in roughly 0.5% of League of Legends rounds.
Thanks to 龙血武姬's K/D/A and utility, she has a fairly average overall win rate. She does best in the late game, with a winrate of NaN% in that phase. Unfortunately, she does terribly in the late game, where 龙血武姬's win rate is NaN%., The difference between her best and worst game phases is a large NaN%. This large difference makes it clear that her power spikes and wanes in different phases of the game. Prepare well.
You can find her most often used in the jungle position. However, that is not the best position for her. The best win rate position for 龙血武姬 is middle ([object Object]%). At this time, 龙血武姬's meta game is focused on dealing damage. In particular, her build should mainly be centered around physical damage. Additionally, she is a pretty good tank champion. Supporting others and crowd control are the least important part of 龙血武姬's playstyle.
You should anticipate having to dedicate only a little bit of time practicing and learning to pick up 龙血武姬. Many League of Legends gamers believe she is one of the most basic champ to main. 龙血武姬 mostly deals magic damage (78% of her total damage). She doesn't deal much of other damage types and should not be considered a hybrid damage dealer..
龙血武姬 deals a decent amount of damage during a normal match (18,846 damage). You may want to focus on building her as a powerful champion to defeat your enemies.
希瓦娜是一只魔法生物,心中有一块燃烧不灭的符文碎片。虽然她时常以人的形象出现,但她真正的形态是一条威猛的巨龙,可以用龙息烈焰吞噬敌人。希瓦娜曾拯救过皇子嘉文四世的性命,如今她心神不安地在皇子的卫队中效力,力图在多疑的德玛西亚人中求得接纳。
She is a powerful damage dealer on the Rift with 6.5 kills on average each round. That is one of the highest kill counts among all jungles. Furthermore, she has a fairly typical average champion death rate (5.6 deaths). Moreover, 龙血武姬's KDA is usually high with an average KDA ratio of 2.4 as well as 6.8 assists per match.
We comb through millions of League of Legends matches pulled directly from Riot's servers each week and analyze the data using advanced algorithms to bring you the most accurate 龙血武姬 stats online. We analyze the data by tier, so you can find the most relevant 龙血武姬 win rate and other stats.