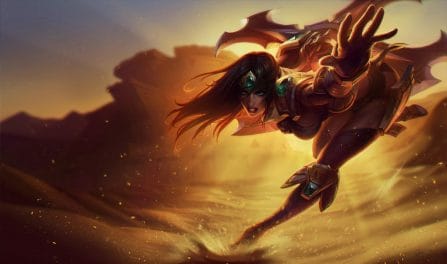 173,190 战争女神 Matches Analyzed
These champ stats were calculated using 173,190 recently played, ranked 战争女神 games. We pull competitive match summaries directly from Riot's own database. Having so many LoL matches to analyze gives us great confidence in our capability to provide precise 战争女神 statistics. She did do a great job in recent matches. She racked up an average win rate of 50.9%.
战争女神 has been used somewhat often in the latest ranked League matches. In the current meta, her popularity is 5.5%. Hardly anyone sees her as a danger. She has only been banned in about 1.6% of LoL games.
As a result of 战争女神's K/D/A and utility, she has a fairly average overall win rate. She does very well in the late game, with a winrate of NaN% in that phase. Unfortunately, she does poorest in the late game, where 战争女神's win rate is NaN%., The difference between her best and worst game phases is a large NaN%. This large difference makes it clear that her power spikes and wanes in different parts of the round. Prepare well.
战争女神 is most commonly played in the bottom position. This happens in [object Object]% of her rounds. Bottom 战争女神 also has the highest win rate ([object Object]%) of all positions. At this time, 战争女神's meta game is focused on dealing damage. In particular, her build should primarily be centered around physical damage. Dealing magical damage is the least significant part of 战争女神's kit.
If you are not comfortable with her abilities and gameplay, you will not find it difficult picking her up for the first time. Most competitors consider her to not be a tough champ to pick up. 战争女神 primarily does physical damage (97% of her total damage). She doesn't deal a lot of other damage types and should not be considered a hybrid damage dealer..
战争女神 deals a good amount of damage during a typical match (19,241 damage). You could focus on building her as a powerful champion to defeat your enemies.
希维尔是著名的宝藏猎人和雇佣兵队长,在恕瑞玛沙漠中进行频繁的契约交易。她的兵器是一柄颇具传奇色彩的十字刃,她曾赢得过无数次战斗,虽然她本人报价不菲,但却深得雇主青睐。她有着著名的无畏决心和无尽的野心,并且以自己的事业为傲——只要赏金够高,她就能从凶险的恕瑞玛古墓中寻回深埋于地下的宝藏。不过随着好几股远古的力量搅动着恕瑞玛的根骨,希维尔突然发现自己被裹挟着、拉扯着,卷入了截然不同的命运。
If you are looking for a dominating damage dealer, then you should maybe consider this champ. She has one of the top kill counts on the Rift among all champs. Furthermore, she has a relatively typical average champion death rate (5.7 deaths). Additionally, 战争女神 has a high KDA ratio (2.5) with 8.6 assists.
We comb through millions of League of Legends matches pulled directly from Riot's servers each week and analyze the data using advanced algorithms to bring you the most accurate 战争女神 stats online. We analyze the data by tier, so you can find the most relevant 战争女神 win rate and other stats.