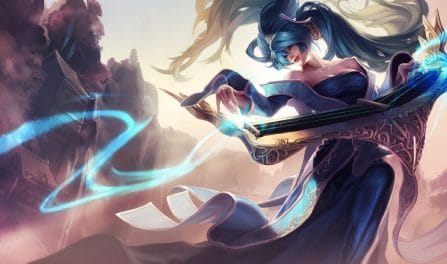 95,137 琴瑟仙女 Builds Analyzed
The most essential items to incorporate into your Sona build include: Moonstone Renewer, Archangel's Staff, Chemtech Putrifier, and Ardent Censer. Furthermore, like our rune suggestions, you can also find great, dedicated, Sona item builds further down for the particular enemy team comp you are facing in your current match. Players who added these items in their kits had a higher win rate than those who worked towards other Sona builds.
琴瑟仙女

Items to Defeat Focused Team Comps

召唤:艾黎

法力流系带

迅捷

焦灼

调节

复苏
If you are playing a varied enemy team comp, you should strongly consider getting Sona the Summon Aery, Manaflow Band, Celerity, Scorch, Conditioning, and Revitalize runes. In recent matches, she won the greatest percentage of her rounds when equiped with these runes. Yet, if you are playing a more homogenous enemy team comp, such as an AD heavy or a CC centric team, you should instead scrollbrowse below to get the best Sona runes to defeat your particular set of opponents.
琴瑟仙女

Runes to Beat Dedicated Enemy Teams

守护者

生命源泉

骸骨镀层

复苏

法力流系带

超然
Our Sona builds come out of our evaluation of 95,137 recently ranked Sona matches. Only the top win rate Sona builds that are also in common use are recommended by us. Since we have so many matches in our dataset, we are absolutelyconfident that we can show you high quality builds for Sona to help ensure you win your next round!
Additionally, to see the best Sona build designed for a different skill division, you can select a different skill tier from the dropdown above. The calculated Sona builds will change to characterize that division's meta.