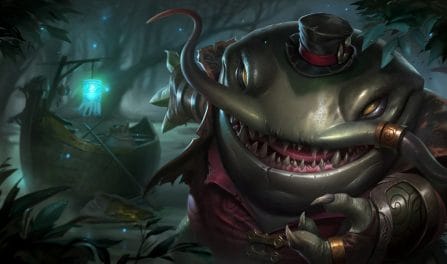 188,724 河流之王 Matches Analyzed
These champion stats were determined using 188,724 recently played, ranked 河流之王 games. MOBA Champion downloads ranked match results directly from Riot's own database. Having so many League of Legends matches to evaluate gives us a lot of confidence in our capability to give you precise 河流之王 statistics. Across all matches, 河流之王 did perform very well, with an above average win rate of 51%.
In the current meta, 河流之王 is very popular. He has been selected in 7% of recently ranked matches. Most League players see him as a threat. He has been banned in about 16.2% of LoL matches.
Thanks to 河流之王's K/D/A and utility, he has a fairly average overall win rate. He does very well in the late game, with a winrate of NaN% in that phase. Unfortunately, he does terribly in the late game, where 河流之王's win rate is NaN%., The difference between his best and worst game phases is a large NaN%. This sizeable difference indicates that his power spikes and wanes in different phases of the match. Prepare accordingly.
河流之王 is most commonly played in the top position. This happens in [object Object]% of his rounds. Top 河流之王 also has the highest win rate ([object Object]%) of all positions. At this time, 河流之王's meta game is centered around tanking. Specifically, his kit should primarily be focused on shielding carries. Furthermore, he is a pretty good magical damage dealer champion. Dealing physical damage is the least significant part of 河流之王's kit.
If you are not used to his skills and gameplay, you may find it difficult trying him out for the first time. Many players consider him to not be a challenging champ to get good at. 河流之王 primarily deals magic damage (80% of his total damage). He doesn't deal much of other damage types and should not be played as hybrid damage dealer..
河流之王 deals a decent amount of damage during a regular ranked match (17,562 damage). You could focus on building him as a damage dealing champion to destroy your foes.
塔姆在历史上有许多不同的名字,他游历于符文之地的各条水道,用大意之人的悲惨喂养自己贪得无厌的食欲。虽然他的外表可能富有古怪的魅力和得意,但他在物质领域的漫游只是为了寻找毫无戒心的猎物。他的舌头像巨大的鞭子,即使是全副武装的重甲士兵也会被他从十几步以外的距离击晕,而如果跌入了他隆隆作响的肚子里,就相当于掉进了九死一生的绝命深渊。
He is an average damage dealer in the game with 5.1 kills on average each game. That is one of the highest kill rates among all tops. 'Moreover, he has a somewhat typical death rate with an average of 4.9 deaths per League round. Furthermore, 河流之王's KDA is usually very high with an average KDA ratio of 2.6 as well as 7.7 assists per game.
We comb through millions of League of Legends matches pulled directly from Riot's servers each week and analyze the data using advanced algorithms to bring you the most accurate 河流之王 stats online. We analyze the data by tier, so you can find the most relevant 河流之王 win rate and other stats.