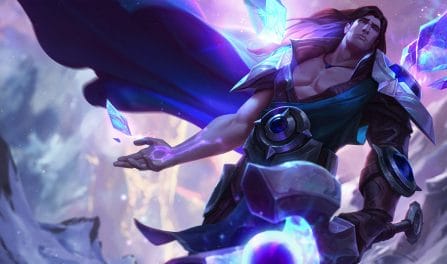 46,271 瓦洛兰之盾 Matches Analyzed
These champion statistics were determined using 46,271 recently played, ranked 瓦洛兰之盾 games. MOBA Champion downloads ranked game data directly from Riot's own database. Having a large number of League of Legends rounds to evaluate gives us great confidence in our capability to give you precise 瓦洛兰之盾 statistics. Across all matches, 瓦洛兰之盾 did do very well, with an average win rate of 50.8%.
瓦洛兰之盾 has been picked very little in the latest ranked LoL matches. In the current meta, his popularity is 1.6%. He is rarely banned during champ select. Obviously, very few players see him as a huge threat. In recent ranked matches, 瓦洛兰之盾 was banned 0.2% of the time.
Thanks to 瓦洛兰之盾's K/D/A and utility, he has a fairly average overall win rate. He does very well in the late game, with a winrate of NaN% in that phase. Unfortunately, he does worst in the late game, where 瓦洛兰之盾's winrate is NaN%., The difference between his best and worst game phases is a large NaN%. This large difference indicates that his power spikes and wanes in different parts of the round. Prepare well.
You will see him typically laning in the support position. The best win rate position for 瓦洛兰之盾 is support ([object Object]%). At this time, 瓦洛兰之盾's meta game is focused on utility and support. In particular, his kit should mostly be centered around supporting others. Moreover, he is a decent magical damage dealer champ. Dealing physical damage is the least important part of 瓦洛兰之盾's playstyle.
You should expect to have to to dedicate only a little bit of time practicing and learning to pick up 瓦洛兰之盾. Many League players believe he is a simple champ to get good at. 瓦洛兰之盾 mostly causes magic damage (64% of his total damage). He also deals a large amount of physical damage.
瓦洛兰之盾 deals a small amount of damage during a normal game (5,423 damage). You probably shouldn't focus on building him as a damage dealing champion to destroy your foes. Instead, you should focus on assisting your teammates to come out on top.
塔里克是保护者星灵,用超乎寻常的力量守护着符文之地的生命、仁爱以及万物之美。塔里克由于渎职而被放逐,离开了祖国德玛西亚,前去攀登巨神峰寻找救赎,但他找到的却是来自星界的更高层的召唤。现在的塔里克与古代巨神族的神力相融合,以瓦洛兰之盾的身份,永不疲倦地警惕着阴险狡诈的虚空腐化之力。
If you are looking for a dominating carry, then you should definitely not consider this champion. He has one of the worst kill totals on the Rift amongst other champs. 'Moreover, he has a somewhat typical death total with an average of 5.6 deaths per LoL round. Additionally, 瓦洛兰之盾 has a high KDA ratio (2.7) with 13.7 assists.
We comb through millions of League of Legends matches pulled directly from Riot's servers each week and analyze the data using advanced algorithms to bring you the most accurate 瓦洛兰之盾 stats online. We analyze the data by tier, so you can find the most relevant 瓦洛兰之盾 win rate and other stats.