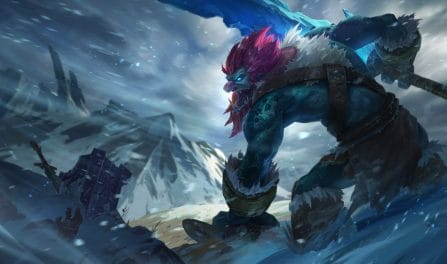 144,051 巨魔之王 Matches Analyzed
These champion statistics were determined using 144,051 recently played, ranked 巨魔之王 games. We pull ranked match data directly from Riot's own database. Having so many LoL games to evaluate gives us a lot of confidence in our capability to give you accurate 巨魔之王 stats. Across all rounds, 巨魔之王 did do very well, with an above average win rate of 52.5%.
巨魔之王 has been used a lot in recent ranked LoL rounds. In the current meta, his popularity is 7.3%. Hardly anyone sees him as a threat. He has only been banned in approximately 2.8% of LoL matches.
Because of 巨魔之王's K/D/A and utility, he has a pretty good overall win rate. He does very well in the late game, with a winrate of NaN% in that phase. Unfortunately, he does very poorly in the late game, where 巨魔之王's winrate is NaN%., The difference between his best and worst game phases is a large NaN%. This large difference makes it clear that his power spikes and fades in different parts of the game. Prepare well.
You will see him typically played in the jungle position. The best win rate position for 巨魔之王 is jungle ([object Object]%). Currently, 巨魔之王's meta game is focused on dealing damage. Specifically, his gameplay should mostly be centered around physical damage. Furthermore, he is an ok tank champion. Dealing magical damage is the least significant part of 巨魔之王's kit.
If you are not used to his skills and gameplay, you may find it difficult picking him up for the first time. Many competitors believe him to not be a tough champion to pick up. 巨魔之王 primarily does physical damage (80% of his total damage). He doesn't deal a lot of other damage types and should not be played as hybrid damage dealer..
巨魔之王 deals a good amount of damage during a normal game (14,722 damage). You may want to focus on developing him as a powerful champion to crush your opponents.
特朗德尔是一个粗鄙且狡猾的巨魔,性格非常顽劣。没有什么东西不能被他打到屈服认输,甚至是弗雷尔卓德本身。他的领土意识极强,任何进入他领地的蠢蛋都会被他追杀。巨大的臻冰棍棒随时伺候。他会让敌人感到刺骨寒冷,并且用锯齿状的冰柱刺穿他们,最后在他们血溅冰原的时候放声大笑。
If you are looking for a dominating damage dealer, then you should definitely consider this champ. He has one of the absolute best kill counts in the game amongst other champions. Furthermore, he has a fairly typical average champion death count (5.5 deaths). Additionally, 巨魔之王 has a high KDA ratio (2.7) with 8.5 assists.
We comb through millions of League of Legends matches pulled directly from Riot's servers each week and analyze the data using advanced algorithms to bring you the most accurate 巨魔之王 stats online. We analyze the data by tier, so you can find the most relevant 巨魔之王 win rate and other stats.