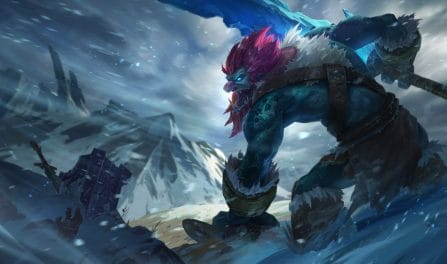 100,734 巨魔之王 Matches Analyzed
To prepare these Trundle stats, we reviewed 100,734 recent competitive League of Legends matches with him chosen. MOBA Champion downloads competitive match summaries directly from Riot's servers. This allows us to be very confident in our Trundle stats. He did do a good job in recent matches. He has a decent win rate of 52.6%.
Trundle has been used only occasionally in recent ranked League of Legends rounds. In the current meta, his popularity is 3.4%. He is rarely banned during champ select. Obviously, very few players see him as a significant threat. In the latest ranked games, Trundle was banned 0.9% of the time.
He is an average damage dealer in the game with 6 kills on average each game. That is the 27th highest kill count amongst all jungles. (There are 39 champion in totals that are most commonly played in in the jungle position.) Furthermore, he has a relatively typical average death count (5 deaths; 35th out of all jungles). Moreover, Trundle's KDA is usually high with an average KDA ratio of 2.4 as well as 7 assists per game. This is the 22nd highest assist count amongst jungle champs.
Our calculated overall Trundle win rate is the 1st best out of all jungles. He is most powerful in the late phase of the game with a 54.2% win rate in that phase. In comparison, he has a 51.2% win rate in the mid phase and a 52.6% winrate overall. There is a moderate difference between these Trundle win rates (3.1%). This sizeable difference indicates that his power spikes and fades in different phases of the game. Prepare accordingly.
Trundle is most commonly played in the jungle position. This happens in 67% of his matches. Jungle Trundle also has the highest win rate (53.3%) of all positions. At this time, Trundle's meta game is centered around dealing damage. Specifically, his gameplay should primarily be centered around physical damage. Furthermore, he is a decent tank champion. Dealing magical damage is the least critical part of Trundle's playstyle.
If you are not comfortable with Trundle's abilities and tactics, you may find it difficult trying him out for the first time. Many players consider him to not be a challenging champion to get good at. Trundle primarily does physical damage (80% of his total damage). He doesn't deal a large amount of magical damage and should not be played as a hybrid damage dealer.
Trundle deals a decent amount of damage in a normal match (15,215 damage). You may want to focus on building him as a powerful champion to defeat your opponents.
Trundle is a hulking and devious troll with a particularly vicious streak, and there is nothing he cannot bludgeon into submission—not even the Freljord itself. Fiercely territorial, he chases down anyone foolish enough to enter his domain. Then, his...
We comb through millions of League of Legends matches pulled directly from Riot's servers each week and analyze the data using advanced algorithms to bring you the most accurate 巨魔之王 stats online. We analyze the data by tier, so you can find the most relevant 巨魔之王 win rate and other stats.