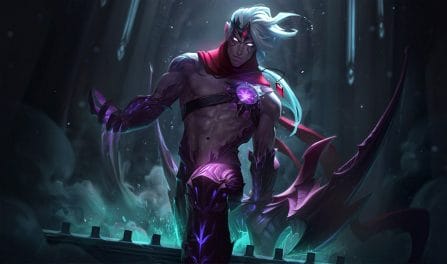 181,489 惩戒之箭 Matches Analyzed
To generate these 惩戒之箭 stats, we reviewed 181,489 recent competitive League matches with him chosen. We pull ranked match records directly from Riot's servers. This allows us to be very confident in our 惩戒之箭 statistics. Across all rounds, he did not do very well, with a below average win rate of 48.8%.
In the current meta, 惩戒之箭 is very popular. He has been selected in 5.9% of recently ranked rounds. Hardly anyone sees him as a danger. He has only been banned in roughly 0.9% of LoL games.
As a result of 惩戒之箭's K/D/A and utility, he has a somewhat poor overall win rate. He does best in the late game, with a winrate of NaN% in that phase. Unfortunately, he does terribly in the late game, where 惩戒之箭's win rate is NaN%., The difference between his best and worst game phases is a large NaN%. This sizeable difference makes it clear that his power spikes and fades in different phases of the game. Prepare accordingly.
惩戒之箭 is most commonly played in the bottom position. This occurs in [object Object]% of his matches. Bottom 惩戒之箭 also has the highest win rate ([object Object]%) of all positions. At this time, 惩戒之箭's meta game is centered around dealing damage. Specifically, his gameplay should mostly be centered around physical damage. Supporting others and crowd control are the least critical part of 惩戒之箭's playstyle.
If you are not familiar with his abilities and tactics, you won't find it difficult trying him out for the first time. Most players believe him to not be a difficult champ to get good at. 惩戒之箭 mostly does physical damage (81% of his total damage). He doesn't deal much of other damage types and should not be played as hybrid damage dealer..
惩戒之箭 deals a decent amount of damage over the course of a normal match (19,363 damage). You may want to focus on building him as a damage dealing champion to crush your enemies.
韦鲁斯是古老暗裔的一员。身为一名冷血的杀手,他最爱的就是用箭矢折磨敌人。先让他们失心发疯,再了结他们的性命。韦鲁斯俊美非常,虽然在大暗裔战争结束后便遭囚禁,但却在几百年后成功逃脱,寄宿于两位艾欧尼亚猎人再造的血肉之躯中。这二人无意之间释放了韦鲁斯,从此便背上了那把蕴含着韦鲁斯精魄的长弓。如今的韦鲁斯开始残酷地报复那些囚禁他的人,但他体内纠缠的两个凡人灵魂却在阻挠他的每一步。
He is a powerful damage dealer on the Rift with 6.8 kills on average each round. That is one of the highest kill counts amongst all bottoms. 'Moreover, he has a fairly above average death rate with an average of 6.1 deaths per League round. Furthermore, 惩戒之箭 has an average KDA ratio (2.4) with 7.6 assists.
We comb through millions of League of Legends matches pulled directly from Riot's servers each week and analyze the data using advanced algorithms to bring you the most accurate 惩戒之箭 stats online. We analyze the data by tier, so you can find the most relevant 惩戒之箭 win rate and other stats.