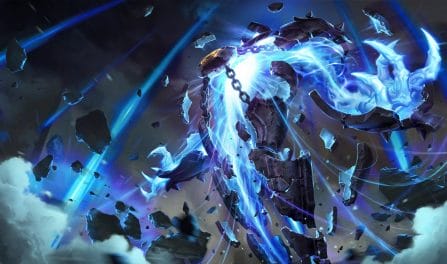 158,753 远古巫灵 Matches Analyzed
To generate these 远古巫灵 stats, we reviewed 158,753 recent competitive League of Legends games with him chosen. MOBA Champion pulls ranked match data directly from Riot's servers. This allows us to be very confident in our 远古巫灵 statistics. He did do a good job in recent matches. He racked up a decent win rate of 51.4%.
In the current meta, 远古巫灵 is incredibly popular. He has been played in 8% of recently ranked matches. He is sometimes banned during champ select. Obviously, some players see him as a significant threat. In recent ranked rounds, 远古巫灵 was banned 5.1% of the time.
As a result of 远古巫灵's K/D/A and utility, he has a pretty good overall win rate. He does very well in the late game, with a winrate of NaN% in that phase. Unfortunately, he does worst in the late game, where 远古巫灵's win rate is NaN%., The difference between his best and worst game phases is a large NaN%. This sizeable difference shows us that his power spikes and fades in different parts of the round. Plan well.
远古巫灵 is played mostly in the support position. This happens in [object Object]% of his rounds. Support 远古巫灵 also has the highest win rate ([object Object]%) of all positions. Currently, 远古巫灵's meta game is centered around dealing damage. In particular, his build should mostly be focused on magical damage. Dealing physical damage is the least important part of 远古巫灵's build.
You should anticipate having to dedicate a significant amount of time practicing and learning to master 远古巫灵. Many LoL gamers consider he is a tough champion to get good at. 远古巫灵 mostly deals magic damage (96% of his total damage). He doesn't deal a lot of other damage types and should not be considered a hybrid damage dealer..
远古巫灵 deals tons of damage over the course of a normal game (21,826 damage). You should focus on building him as a damage dealing champion to smash your enemies.
泽拉斯是古代恕瑞玛的巫师,飞升以后的他变成了一种奥术能量体,在魔法石棺的碎片之中涌动。数千年来,他被囚禁在沙漠之下,但最近恕瑞玛的崛起却将他从远古的牢笼中解放出来。对权力的疯狂渴求驱使着他,想要夺回他认为属于自己的东西,并取代世界上这些自命不凡的文明,让自己成为唯一受膜拜的偶像,统一整个世界。
He is an average damage dealer in the game with 5.1 kills on average per game. That is one of the highest kill rates amongst all supports. Additionally, he has a fairly typical average champion death rate (6 deaths). Moreover, 远古巫灵 has a high KDA ratio (2.5) with 10.2 assists.
We comb through millions of League of Legends matches pulled directly from Riot's servers each week and analyze the data using advanced algorithms to bring you the most accurate 远古巫灵 stats online. We analyze the data by tier, so you can find the most relevant 远古巫灵 win rate and other stats.